Lately, if there's one couple that everyone looks up to for some love inspiration then it's Virat Kohli and Anushka Sharma. Ever since the hardworking stars of their respective field got married in 2017, the two have shared many adorable posts. From announcing their pregnancy in the most unique way to posting cheeky comments on each other's posts Virat and Anushka are amongst the favourite couples of the tinsel town.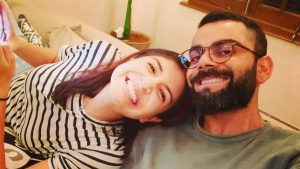 For the past few weeks, the duo has been posting the most vibrant and happy pictures from their trip to the UK ahead of Team India's tournament. Fans of Virushka are delighted with the random pictures and selfies of the couple. One such post uploaded by Anushka garnered much praise and love from her fans but the actress didn't give any credits to the photographer. Pointing out the same, Virat cheekily commented on Anushka's post and asked 'who took these pictures. Although, Anushka known for her witty side, came up with a cool answer to her husband's query and replied in the comments "@virat.kohli a really good fan."
View this post on Instagram
This is not the first time when the couple has left their fans in awe, in the past also Anushka and Virat have hardly left any chance to leave an adorable comment on each other's picture or post. Recently, when Virat Kohli was having a Q&A session with his fans on his Instagram handle, wife Anushka Sharma took the advantage of the impromptu chat session and adorably asked her husband "Where have you kept my headphones", to this hubby Virat replied, "Always on the side table next to the bed love." The cute banter between the two always makes their fans love them a bit more, each time.