Priyanka Chopra To Varun Dhawan; Celebrities Who Are Absolute Dog Lovers: Pictures Inside!!!
Who doesn't love dogs? They are the purest soul, a calm wind in a storm, a peacemaker. In this whole industry of pace, glamour, and tremendous pressure, every celebrity deserves a pet to which they go home and receive unconditional love from them. Here are some celebrities who are absolute dog lovers and showcase their babies to the world.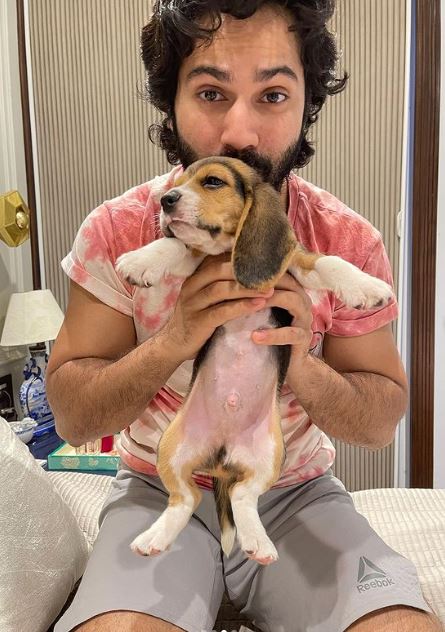 Varun Dhawan – Varun Dhawan has a cute little beagle whom he has named "Joey." He loves Joey and can't stay away from him. Recently Varun shared a video on his Instagram where he met Joey after 45 days and they were so happy meeting each other. He wrote, "Back home after 45 days and couldn't be happier to see my boy joey 🐶 🤗. Last 3 months I had no time to spend or explain to joey why I was busy promoting JJJ and wrapping bawaal this has to be the greatest reward."
Kartik Aryan – Who doesn't know Kartik and his "Katori." Katori has his own Instagram handle which is handled by daddy Kartik and other than that, Kartik keeps on posting pictures of Katori on his Instagram handle. They seem to be the best daddy-son duo. 
John Abraham – Everyone knows that John Abraham is an animal lover and supports NGOs related to saving pets. He has three doggos and he loves him a lot.  He celebrates all the festivals with them and he and his wife take care of them as their kids. 
Priyanka Chopra Jonas – Princess Diana and her mommy Priyanka Chopra is very popular but the less known fact is that Priyanka has two more dogs whom she loves as much as she loves Diana. Panda, Gino, and Diana have their own Instagram handles which are taken care of by Priyanka and she loves them as much as she loves her daughter.
Anushka Sharma – Anushka Sharma has always been a dog lover. She has a cute Labrador whom she loves dearly. She is seen taking care of him, giving champi, hugs, and kisses to him on regular basis. The adorable doggo even has a good bond with Anushka and Virat's daughter Vamika.
Alia Bhatt – Mommy-to-be Alia Bhatt is already a mother of three cats and two dogs. She is just a mother no one can resist living with. She frequently posts pictures of her with her pets and the pictures show the bond they have with each other. She has a very heart-warming relationship with each one of them.