Kangana Ranaut's Team Brutally Slams Swara Bhasker For Saying "1947 Mein Kangana Ne Azaadi Dilwai Thi"
Kangana Ranaut's explosive interview with Republic TV on Sushant Singh Rajput's death has made many headlines. She slammed Swara Bhaskar and Taapsee Pannu calling them the bootlickers of the biggies and that's why they have never felt any discrimination. This enraged Swara and she made a tweet taking a dig at the actress. Now, Kangana's team has come out to slam the actress.
Taking to her twitter handle, Swara Bhasker shared a clip from the Kangana Ranaut's interview and wrote, "1955 में 'पाथेर पांचाली' के साथ कंगना जी ने parallel cinema चलाया, 2013 में क्वीन फ़िल्म के साथ फ़ेमिनिज़म शुरू किया पर इस सब से पहले 1947 में उन्होंने भारत को आज़ादी दिलवायी थी। -कहत एक अज्ञात चापलूस ज़रूरतमंद आउट्साइडर, चापलूसी का फल (आम) खाते और उँगलियाँ चाटते हुए। (Kangana ji ran parallel cinema with 'Pather Panchali' in 1955, she started Feminism in 2013 with Queen's Film, but first of all in 1947 she got independence for India. – an unknown sycophantic needy outsider, eating the fruit (mango) of applesauce and licking fingers)." Take a look: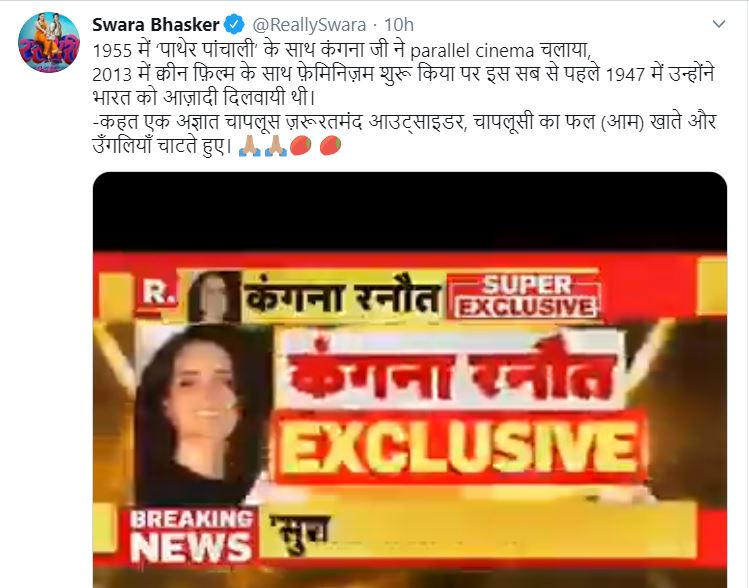 Click here to check out the post directly on Twitter.
Well, this didn't go well the Kangana's team and slammed Swara Bhasker in response to her tweet. Kangana's team wrote, "Dear @ReallySwara none of you were born in the golden era of Indian cinema, after Gangsters mafias and Dons took over the industry it became big stinking gutter and feminism and parallel cinema awakening happened with Queen 2014 if not please correct us when it happened?" Check out the tweet below: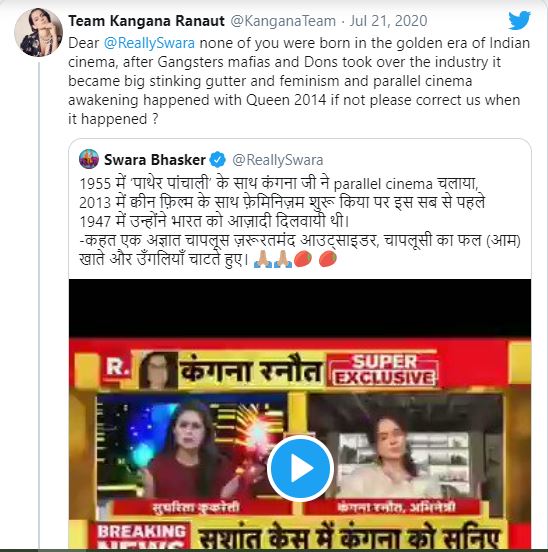 Further, Kangana accused her of intentionally doing this to distract from Sushant's alleged killer. "It's evident your motive is to simply distract from the culprits who killed Sushant, people like you not only protect terrorists and anti nationals but also protect movie mafia dons, shame on you and your evil intentions."