After The Legend Dilip Kumar's Demise His Wife Saira Banu Is Hospitalised Due To Breathing Issues
There is nothing more painful than losing your loved ones and Saira Banu has gone through the tragedy. On 7th July this year, Saira Banu's husband and legendary actor Dilip Kumar took his last breath and left for his heavenly abode. Now Saira Banu too has been admitted to Hinduja Hospital in Mumbai after suffering breathing issues. Someone close to the family said, "She was finding it difficult to breathe, so was rushed to the hospital. After initial investigations, it was found that there was a strain on her heart. She was admitted three days ago and is much better now".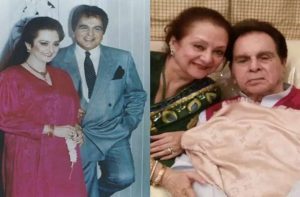 People close to Saira and Dilip Saab have also informed that the yesteryear actress has been finding it difficult to overcome the loss of Dilip Kumar's demise. Saira Banu had married the legendary actor when she was only 22 years old. Her life revolved around the superstar and she has been there with Dilip Saab rock solid in every situation.
One of the closest friends to both Saira and Dilip Kumar, actor Dharmendra said that it has been tough for Saira Banu after Dilip Kumar's demise. "I did not ask too many questions but you can understand how she must be feeling after Dilip Kumar passed away. Sab kuch khaali khaali lag raha hoga (She must be feeling the void)."
the actor continued further and added that he would try and call her to inquire about her health and also wished Saira Banu a speedy recovery.