"We Don't Need Custody Remand Of Rhea Chakraborty" Mitha Ashok Jain Of NCB
Rhea Chakraborty's arrest has been the talk of the town recently. The Narcotics Control Bureau arrested the actress yesterday for the things that she said during the investigation. Now, the Deputy DG, South-Western Region, NCB , Mutha Ashok Jain has talked to ANI in connection with the arrest. We Don Need Custody Remand Of Rhea Chakraborty Mitha Ashok Jain Of NCB.
He was quoted saying, "Rhea Chakraborty will be produced before a magistrate shortly. We don't need her custody remand so we'll seek judicial custody. We aren't asking for her custody remand as whatever we wanted to cross with her, we've done already." Further, he also suggested that whatever Rhea said was enough to get her arrested. He stated, "Rhea was sent for a routine medical check-up. She tested negative for COVID-19. Whatever she told was sufficient for the arrest. We have arrested her, it means we had enough." However, he did mention that they did not recover any contraband from Rhea.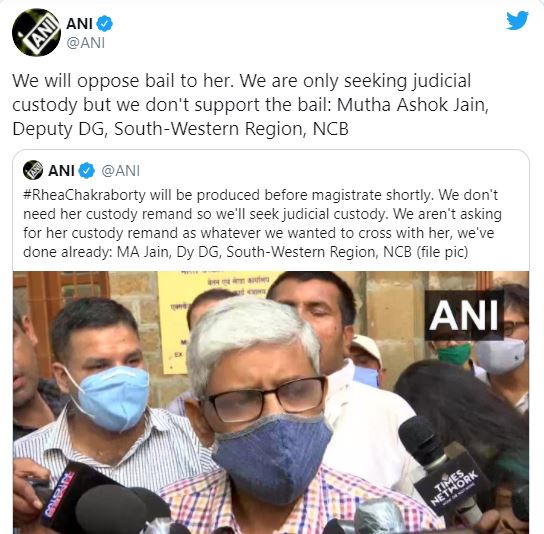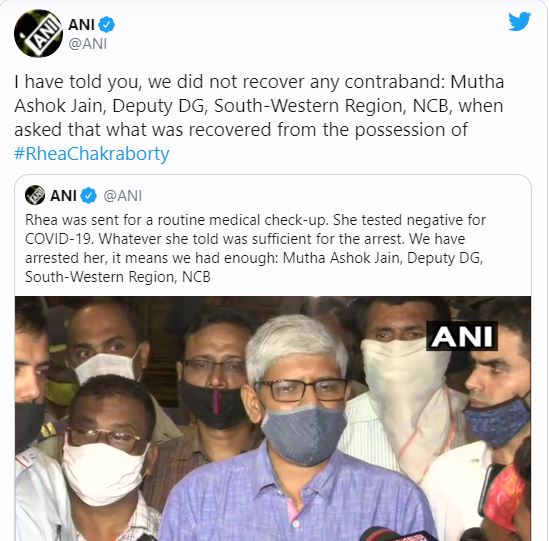 Rhea Chakraborty was interrogated for three consecutive days by the NCB before the arrest. Reportedly, she maintained that she did not consume any drugs and that she only procured them for Sushant Singh Rajput. Earlier, Rhea's brother Showik was arrested by the NCB. The magistrate court then granted Showik's custody to NCB till September 9.
Meanwhile, on Saturday, Rhea Chakraborty's father Indrajit Chakraborty issued a statement after his son Showik was arrested. The statement read, "Congratulations India, you have arrested my son, I'm sure next on the line is my daughter and I don't know who is next thereafter. You have effectively demolished a middle-class family. But of course, for the sake of justice, everything is justified. Jai hind," as quoted by NDTV. "We Don Need Custody Remand Of Rhea Chakraborty Mitha Ashok Jain Of NCB Why and When say?