RJ Malishka Gets Trolled As She Danced For Olympic gold medalist Neeraj Chopra And Made Him feel Uncomfortable
India is still celebrating Neeraj Chopra's recent win at the Olympics where he bagged the first gold medal in Javeline throw. Ever since he has come back to his country Neeraj is busy giving interviews and making appearances at various important events. Recently the video of his training and hard work that goes behind the sport is doing the rounds on the internet and the gold medalist is garnering praises and respect for the same.
However, as per the netizens, not all the interviews went well for Neeraj Chopra and left him a bit uncomfortable and awkward. On Thursday, Neeraj Chopra appeared on the show hosted by radio jockey RJ Malishka Mendonsa, where she interviewed Neeraj Chopra and later danced for him too. Malishka even asked for a 'Jadu Ki Jhappi' at the end.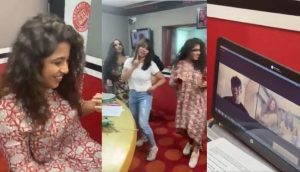 This gesture of the RJ surprised the netizens and left them fuming for putting the player in an uncomfortable situation. In a conversation with RJ Malishka Mendonsa, Neeraj Chopra didn't really enjoy the impromptu dance section and was seen smiling uncomfortably. Although, the host of the show didn't stop there and posted the video on her Twitter handle. Most of the netizens were calling out the RJ for her unprofessional behavior and criticized her for making Neeraj Chopra feel awkward in the whole situation.
Ladiesssss..Yes I got the hard hitting, deep answers too but..Take the first 4 secs before the cam moves to the zoom call to guess who we are dancing for😇 😉 #udejabjabzulfeinteri and then tell me I did it for all of us😄 #gold #olympics #neerajchopra @RedFMIndia @RedFM_Mumbai pic.twitter.com/SnEJ99MK31

— Mumbai Ki Rani (@mymalishka) August 19, 2021
Once the clip of the show went viral, users labeled it as absolutely cringe-worthy. One of the users commented, "cringe bhot chota shabd hai" (Cringe is a small word)", he wrote. While another user asked Red FM for not allowing her to do such stunts.