Mahhi Vij Finally Responds To Jasmin Bhasin Calling Jay Bhanushali "Misfortunate" To Have A Wife Like Her
Riteish Deshmukh and Genelia Dsouza are back with the second season of Ladies v/s Gentlemen. It has received a big booster after Jasmin Bhasin made some "oh so controversial" statements against Jay Bhanushali's wife Mahhi Vij. After the video went viral on social media Jasmin faced a massive backlash from Jay Bhanushali's fanbase.
In the video, Jasmin can be seen telling Jay Bhanushali that it is his "misfortune" to have a wife like her. She said, "Yeh apni biwi ki frustration iss show pe utaarta hai. Teri badkismati hai teri biwi aisi hai". The video ended with Jay's shocking expressions to Jasmin's comments, after which Jay's fans started lashing out at Jasmin for her irresponsible remarks.
However Jasmin had taken to her Twitter and clarified the same. She wrote, ""To the people writing about my remark on Mahi on @FlipkartVideo show, it was a fun and funny remark jo hum mazaak mein bol rahe they (which was said in jest) because Jay and I were in a debate and unfortunately it was a bad edit. I absolutely love Jay and Mahi. Best couple I know and I just love them" Mahhi also reacted to it and took to her Twitter handle and wrote, "Tu meri jaan tu kuch bhi bol sakti hai. Haq hai tera mujhpe tara ki."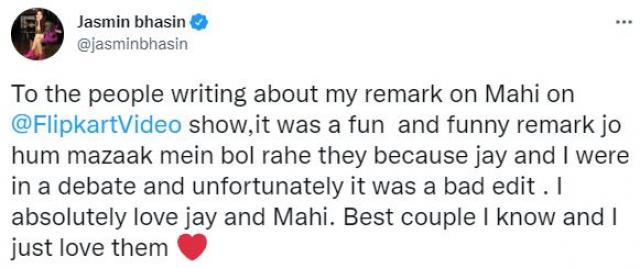 Stay tuned for more such updates.