Kangana Ranaut's Mumbai Property Raided By BMC Officials, 'Stop Work Notice' Issued: Actress Says "They Demolish The Structure Tomorrow"
Kangana Ranaut's being super vocal in Sushant Singh Rajput's case and against the Mumbai police seems to have gotten her into trouble. After she called Mumbai to be seeming like POK, she was threatened to not enter Maharashtra. And after she gave a befitting reply to the threat and announced her return to the city on 9th September, she was abused and even her property in Mumbai was raided. The BMC officials entered her Manikarnika Studios and raided the place without any notice. And today, they've left a notice to stop work after the inspection.
Yesterday, Kangana took to her twitter handle and shared some videos which showed how the BMC officials have forcefully taken over her office Manikarnika Films in Mumbai. The actress mentioned that she has all papers of no illegal construction but the BMC is demolishing her office. After they visited her office for inspection, the BMC officials didn't come with a bulldozer but slammed a notice outside her office, a notice under section 354/ A of Municipal Corporation Act. The notice is to 'stop the work' for some leakage in the office.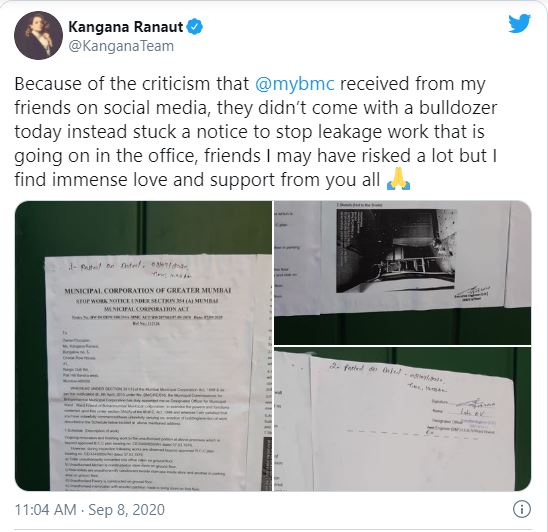 Is a response to the same, Kangana tweeted, "Because of the criticism that @mybmc received from my friends on social media, they didn't come with a bulldozer today instead stuck a notice to stop leakage work that is going on in the office, friends I may have risked a lot but I find immense love and support from you all". Earlier when the officials came for inspection, Kangana, in another tweet read, "I have all the papers, BMC permissions nothing has been done illegal in my property, BMC should send a structure plan to show the illegal construction with a notice, today they raided my place and without any notice tomorrow they demolishing entire structure."