Jaya Bachchan Gets Brutally Trolled For Her Rude Behaviour In The Rajya Sabha, Netizens Say, 'Shameless Lady' Checkout Here!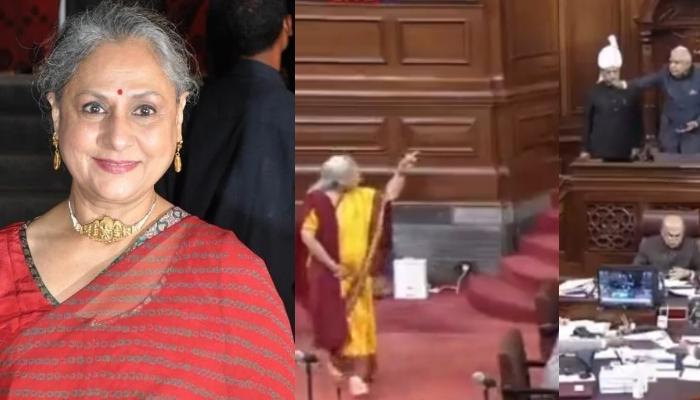 The renowned actress Jaya Bachchan received criticism after criticising the Honorable Vice President in the Rajya Sabha. One of the most gifted and varied actresses of her day is the seasoned performer Jaya Bachchan. In Satyajit Ray's movie Mahanagar, she made her acting debut as a young performer. She continued on to work in a number of successful blockbusters, including Sholay, Silsila, Guddi, Abhimaan, Zanjeer, Mili, Uphaar, and Shor, among others.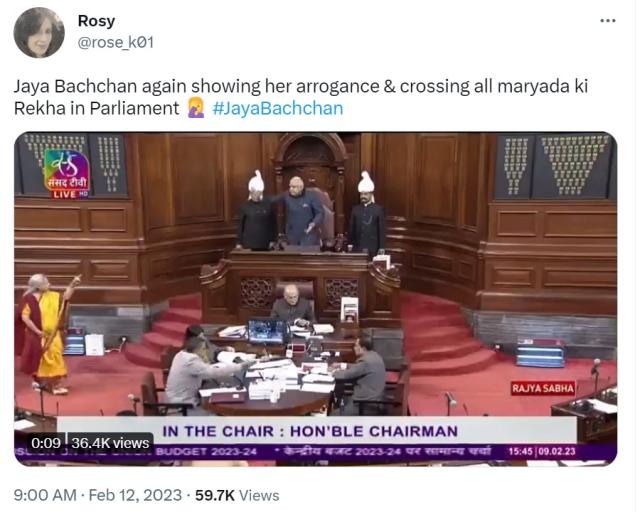 She also has a huge fan base and is well regarded. Jaya Bachchan, meanwhile, frequently receives criticism for her snarky and irritable demeanour. Then, once more, a similar incident occurred when a video of Jaya Bachchan from a recent Rajya Sabha session became viral online.
Jaya Bachchan gets trolled over her rude behaviour in a recent Rajya Sabha session:
Jaya Bachchan is a Rajya Sabha member in addition to being a wonderful actress. A video of the seasoned actress during the most recent Rajya Sabha session was published on Twitter on February 12, 2023. As she and the other members were being instructed to take their seats, Jaya Bachchan can be seen in the video pointing her finger towards the Honorable Vice President and Rajya Sabha Chairman, Shri Jagdeep Dhakhar. The Twitter person who shared the video stated: "Jaya Bachchan again showing her arrogance & crossing all maryada ki Rekha in Parliament  #JayaBachchan." To watch the video, click here.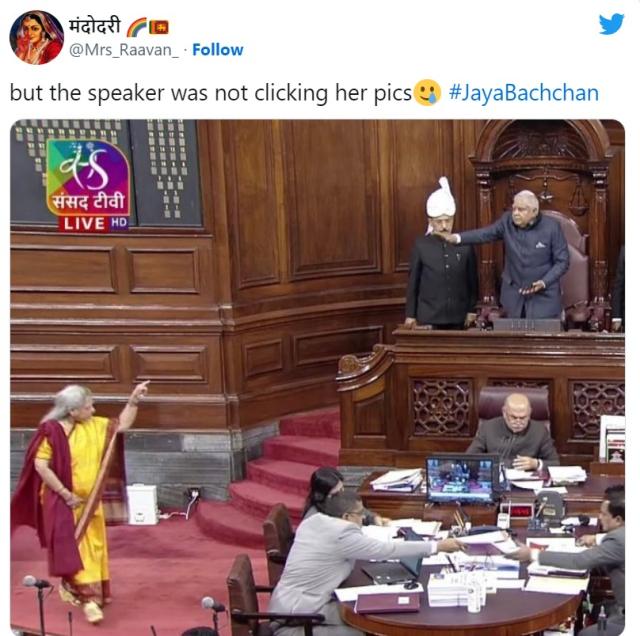 However, Jaya Bachchan's harsh and irritable behaviour didn't sit well with social media users, who teased her for it. Even memes on the issue were created by several internet users. One online user complained about her haughty actions, writing, "She should be disqualified." Another user commented, "This mad old arrogant woman has no respect for the user…look at the way she is pointing her finger at the Chairman….nobody of any party, does that." One more social media user wrote, "Jab tak Maryada ki Rekha rahegi, tab tak Jaya jii usse cross karti rahegi." 


Nobody is surprised by Jaya Bachchan's dislike of the paparazzi. The experienced actress occasionally may be seen yelling at the photographers who take images of her. For instance, Jaya Bachchan and her husband Amitabh Bachchan were photographed on January 17, 2023, at the Indore airport. When photographers and some of their followers began taking photographs of them, Jaya Bachchan lost her cool and began yelling at them. Even worse, she shouted at them, "Do not click my pictures, you don't understand English?"