Gauri Khan Revealed About Suhana's Dating And Shahrukh Khan's Bad Habits, Deets Inside!!
The promo of the 12th episode of Koffee With Karan is out. After 17 years, Shah Rukh Khan's wife Gauri Khan is all set to appear on Karan Johar's popular chat show. Sanjay Kapoor and Chunky Pandey's wife Maheep Kapoor and Bhavna Pandey will also be seen with her in this episode. Karan Johar has shared the promo of the new episode on his social media handle.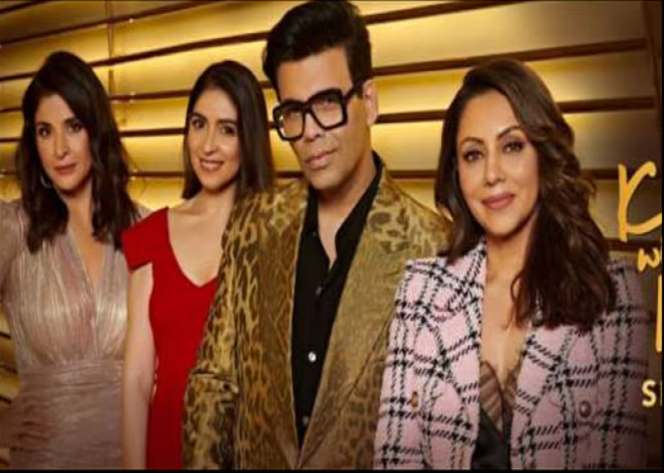 Gauri Khan
In the promo, Karan Johar is seen asking filmmaker Gauri Khan in a rapid-fire round, "If a film was made on your and Shah Rukh Khan's love story, what would his name be?" Responding to the question, Gauri Khan says, "I think Dilwale Dulhania Le Jayenge, I love this film".
During the chat, Gauri also revealed the dating advice she would like to give to her daughter Suhana Khan. In the promo, Gauri can be heard saying that she asks her daughter to never date two boys at the same time. After which Karan Johar, Maheep Kapoor, and Bhavna Pandey start laughing.
Gauri Khan
Not only this, Karan Johar asked Gauri to reveal a habit that sometimes bothers her while talking about the Badshah of Bollywood, Shah Rukh Khan. To this Gauri said, "Whenever there is a party in the house, Shahrukh goes to drop everyone in the car. Sometimes I feel that he spends more time outside the house than inside the house during the party. Because of which it makes me feel like we're out partying on the street."
During the show, Karan asked Sanjay Kapoor's wife Maheep, "If you are signed in a film, which actor would you like to work with?", Maheep replied, "I think I will look great with Hrithik Roshan". Karan was shocked to hear this answer from the actress. He said, "Who says that, really? How dare you say that".
BY GUNJAN CHAUDHARY