"Blind" starring fashionista Sonam Kapoor, to made a digital release due to Covid restrictions!
Owing to the big screens shutting down by the government due to Covid-19, OTT platforms have seen a sudden rise in their use. Many big-budget films which were made for a theatrical release, ended up on digital platforms. In this time when covid is taking so many waves and cinema halls remain shut. Sonam Kapoor's upcoming thriller, Blind, produced by Sujoy Ghosh, might make a release on the OTT platform, owing to the anticipated 3rd wave of Covid-19.

Reports state that the movie was originally made with an intention of being released on the big screen. But due to the current covid situation, the makers of the film are discussing the release on digital platforms. The mystery remains on the name of the OTT platform. A secret source who remained close to the production says, "Sujoy had thought of waiting it out for a theatrical release. He is very happy with how the film turned out. But given the third wave scare and another shutdown of theaters, he is being advised to not hold onto the movie anymore. He is now talking to three digital streaming companies and he will select the best deal."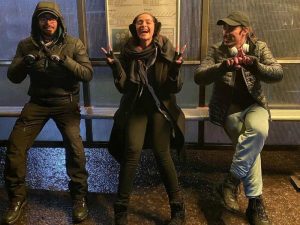 Sonam celebrated the start of her shoot by posting on Instagram, captioning it, "We are making a thriller and are very serious about our jobs, the cold is making us behave this way. Flanked by the DOP and The Director #ATeam #Blind #gia". Sonam Kapoor shot for the movie in Glasgow, UK in January this year. The movie is about a blind police officer which is played by Sonam Kapoor. She was trained by a blind coach so that she could get into the skin of the character for the film. That's some dedication!!