Bigg Boss 13: Fans Are Happy That Sidharth Shukla And Rashmi Desai Found Out About Shehnaaz's Game Plan, Say It's Game Over For Sana"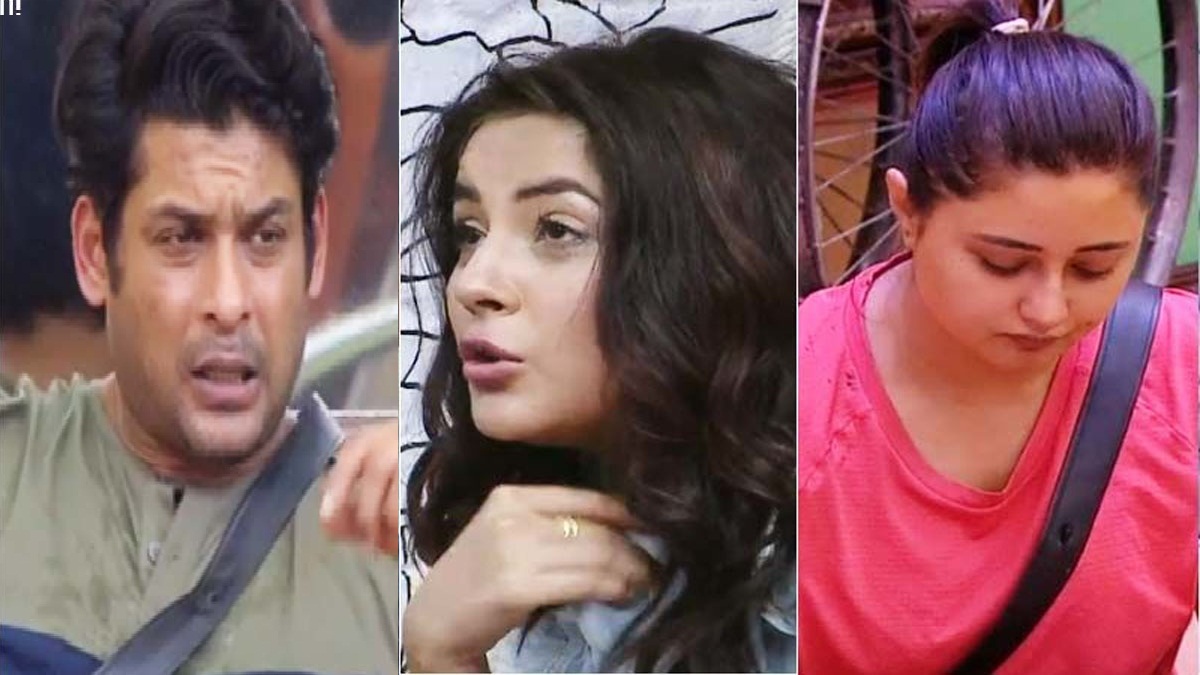 Yesterday episode of Bigg Boss 13 was one hell of an episode. We saw Asim Riaz and Sidharth Shukla locking horns in a nasty fight. We also saw Sidharth Shukla crying inconsolably probably for the very first time on the show. A vulnerable Sidharth even told BB that he wants to leave the show. Sidharth Shukla also lashed out at Shehnaaz Gill and told her he wants to stay away from her because he doesn't like people who dupe others easily.
Towards the end of the episode, we saw Shehnaaz Gill trying to convince Sidharth to talk to her but he was in no mood to listen to her. He kept ignoring her but in the end he lost his patience and lashed out at Shehnaaz and revealed why he has been ignoring her. Voicing his opinion, Sidharth said, "Jo apne maa baap ka saga nahi ho sakta, wo kisika saga nahi ho sakta," He further added that he has been ignoring her antics considering her childish behavior. He further said that she may be smart but he is no fool. He went on to add that he maintains a distance from people who make fool of others. Shehnaaz started crying inconsolably.
He later went on to confront him and asked him how he got to know the story. She further asked him not to judge her as he doesn't know her side of the story. The preview of tonight's episode also showed Rashmi Desai telling that Sana is nothing without Sid. Soon after the episode aired, fans took to twitter to express how happy they were as Rashmi and Sidharth have finally found out about Shehnaaz Gill's game plan.
Sana se bat band krke sid ne bhoot acha kiya
She is using him for the game bohot badi nautanki hai ye aur peeth peeche sabki burai krti hai flipper
Iska game over ho gya hai#SidharthShukIa #ShehnaazGill #Sidnaaz #BB13 #StopUsingSidForTRP #BiggBoss13 @BiggBoss #ArtiSingh

— Akshay Arora (@arrua9999) January 21, 2020
#ShehnaazGill confidence ke naam pe zero hai ye bandi. Aaj khud hi bol diya #Rashmi me hai.#SidharthShukIa saath Nahi toh ye kuchh Nahi.#SidharthShukIa @sidharth_shukla #BiggBoss13 #BB13

— ImBharat (@IBharat212121) January 21, 2020
And today, #ShehnazGill ka pura game expose ho chuka hai. Nothing left to get exposed.
Well done my boy, #SidharthShukla. You rightly listened and understood what Salman was trying to convey you during WKV.#BB13 #BiggBoss13

— Pa₹idhi $₹ivastava 🏏 (@BeingKohlicious) January 21, 2020
Agree or disagree#ShehnazGill appearing more -ve and dumb without #SidharthShukla.

She is praising Rashmi and Rashmi is saying she is nothing without #SidharthShukla (backbitching)#BiggBoss13 #BB13 @ColorsTV @BeingSalmanKhan

— sri2tweet (@sri2tweet1) January 21, 2020
Hence its proved 😂 Sid doesn't give a F about #Fakenaaz and i dont know why Paras and Mahira are supporting her. And Rashami decoded her so well! She also knows Sid is Fakenaaz game!#BB13 #BiggBoss13

— PaRi Dhaliwal (PaRiCreation)/(SidRa) (@PaRiDhaliwal2) January 21, 2020
#SidharthShukIa to sana-jo apni maa baap ka nahi ho skti wo kisi ka nahi ho skta hain …

Context – sana ne khud kaha tha paras se chhor na mera baapu ka baate wo to aise hi bolke chala gya. Meko hain tere sath feeling to hain …#BiggBoss13#BB13#SidharthShuklaShow

— . (@_RajputAnkit_) January 21, 2020
🔥 Promo 🔥#RashmiDesai : #Shehnaaz ki game hi Sidharth hai , She is nothing Without #SidharthShukla

Pehli baar bandi kuch sahi bol gayi hai !!!! #StopUsingSidForTRP#BB13#BiggBoss13

— Hayat ||🦋❤️ (@Hayat_Siddiqui7) January 21, 2020
I appreciate what @sidharth_shukla said " Jo ladki apne maa baap ka nahi ho sakta , woh kisika saga nahi hota"
Words are harsh but apt for #ShehnaazGill
2 days before she said rubbishes abt her parents..#SidharthShukIa keep your attitude #BB13 #BiggBoss13#StopUsingSidForTRP

— Keshav Rajpoot (@Keshav9934) January 21, 2020
#SidharthShukla to sana :- Maine apni life experience se ek cheez sikha hai ki jo insaan apne maa baap ka na hua vo kisi ka nai ho sakta
u won d show for me today ❤

Sana fakeness is been seen by world now 👍🏻

Proud of u sidharth 🙂🙂🙂#BiggBoss13 #BB13#StopUsingSidForTRP

— ZuBeR (SidHeart ♥) (@ShaikZu25682041) January 21, 2020
SG's game is exposed now..#SidharthShukla did good tk stay away fr her..

Shes another snake in #BiggBoss13 whos only using Sid, as he's stronger

Baki ka kal #ParasChhabra expose marega..

"Ab sidn@az nai karna tujhe"#BB13

— ChetanaBB_fan🌼No Diplomacy (@ChetanaBB_fan) January 21, 2020
Click Here To get Free Pubg Royal Pass Season 11
Meanwhile, Sidharth Shukla chose Arti Singh over Shehnaaz Gill for nominations which worsened their existing fight even more. In today's episode, Shehnaaz will be seen telling Paras that SidNaaz has already ended while Rashmi Desai will be seen discussing this with Asim and Paras.