Soha Ali Khan Spills The Beans On Saif Ali Khan-Kareena Kapoor's Newborn Baby Boy Jeh Ali Khan, "It's Lovely To Have A New Baby"
When a baby enters a couple's life, everything seems meaningful. From their first step to their first word, the journey of parenthood is an emotional roller coaster ride. For a woman, the phase of motherhood brings in a lot of superpowers, from managing the house to taking care of the baby, she is on her toes 24*7. Actress, Soha Ali Khan is one such mother, who has been blessed with these emotions.
Soha Ali Khan who is a mother to her adorable daughter Inaaya Naumi Kemmu opened upon her parenting skills she also heaped praises for sister-in-law Kareena Kapoor for her constant source of strength during pregnancy.
In an interview with India Today, when Soha Ali Khan was asked what she had to say about Kareena Kapoor and Saif Ali Khan's newborn baby boy Jeh Ali Khan, Soha said, "It is lovely to have a new baby in the family and to see how they grow because the first year is always about a lot of firsts. So, this is always an exciting time." Speaking about Kareena Kapoor Khan who was blessed with Taimur Ali Khan just before Soha welcomed Inaaya, the actress said it was comforting to have the former around her.
"Kareena was very concerned and always asked after me and had a lot of useful things to share because it is very important to recycle things amongst new parents. Certainly, it was very useful to have someone in the family have a baby 9 months before me because I could save on lots of things."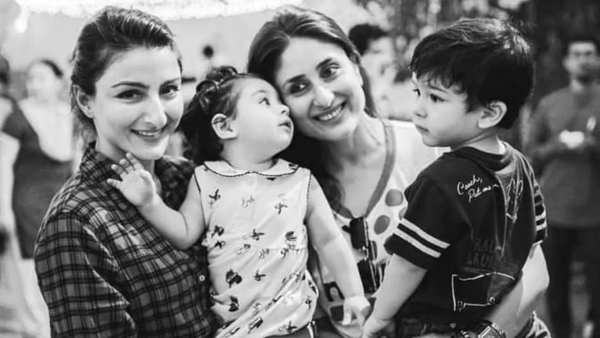 Soha added, "Kareena and I would often talk about the changes that our bodies went through during the pregnancy, lack of sleep and, of course, the feeling after having a baby. It was very comforting to have her around".
Stay tuned for more such gossips.