Shahrukh Khan's Son Aryan Khan Seen "Laughing" While Being Under Arrest, Angry Netizens Slams Shahrukh Khan For Bad Parenting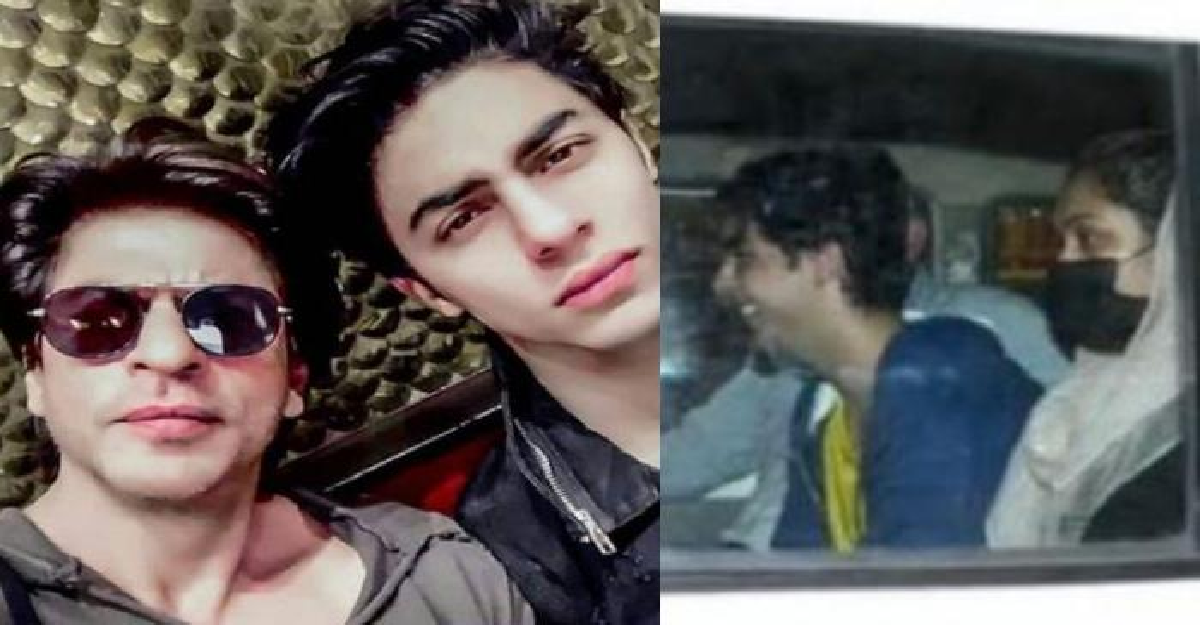 Bollywood superstar Shah Rukh Khan's son Aryan Khan was arrested by NCB in Mumbai after the investigating agency raided a luxury cruise liner and seized drugs at a party that they were attending. Three accused including Aryan Khan, Arbaz Seth Merchant, and Munmun Dhamecha were remanded to NCB custody by the Esplanade Court in Mumbai. Other accused Nupur Satija, Ishmeet Singh Chadha, Mohak Jaiswal, Gomit Chopra and Vikrant Chhokar were arrested.
Now a picture of Aryan Khan laughing with police officials inside a white van is doing rounds on social media. From different social media platforms to news websites this picture has got everyone talking and questioning Shah Rukh Khan and Gauri Khan's parenting. While some people are raising their concern over Aryan's relaxed attitude despite being detained in such a serious matter, some have questioned the authenticity of NCB when it comes to celebrities.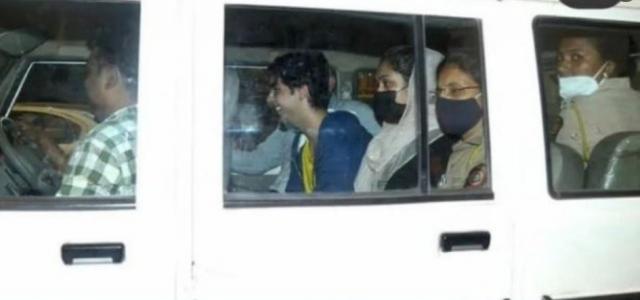 A user pointed out that Shah Rukh Khan's fame and success is the prime reason behind his son's smile in such a serious matter. The user wrote, "When dad has Money Power & Corruption is deep-rooted in the system; You Can Afford to Laugh!" Another user also shared the same set of thoughts in his tweet, and it can be read as "That confidence is about money and stardom of his father..he knows he will come out …If people like Saman Khan @BeingSalmanKhan can over run and kill people.. come out clean without any punishment …why would #AryanKhan worry about drugs. Law is 4 common people not for rich."
When dad has Money Power & Corruption is deep rooted in the system ; You Can Afford to Laugh! pic.twitter.com/ueNsyc6knj

— Ṡüḋḧïṛ 🇮🇳🏌️‍♂️ (@seriousfunnyguy) October 5, 2021
#AryanKhan is laughing!!

The laugh says, "He can buy the ship but he will just laugh on lifeless people for now". pic.twitter.com/i7qyDtOYBI

— JUST A FAN. (@iamsrk_brk) October 4, 2021
#AryanKhan is laughing!!

The laugh says, "He can buy the ship but he will just laugh on lifeless people for now". pic.twitter.com/i7qyDtOYBI

— JUST A FAN. (@iamsrk_brk) October 4, 2021
@iamsrk he is still laughing… Looks like still h!gh on 💊 🥴 #AryanKhanArrested #AryankhanDrugsCase

SRK once we were your fan…. You disappointed us. (Joke) https://t.co/DBixFLP74s pic.twitter.com/SdP1dc3jIH

— Jay 🇮🇳 ho! ⚡ (@jayyluharr) October 4, 2021
Is he laughing #AryanKhanArrested … shocking! pic.twitter.com/Fx0ttxSske

— Meena Das Narayan (@MeenaDasNarayan) October 4, 2021
DG @narcoticsbureau , In the photo below of @iamsrk 's son Aryan Khan is laughing & looks like joking with @narcoticsbureau Officers. Is he taking @narcoticsbureau for granted ?? This attitude after being arrested for a crime is worrisome ! @Dev_Fadnavis @AmitShah @narendramodi pic.twitter.com/bX3nBkjtSC

— Niraj (@NirajGunde) October 4, 2021
#WeStandWithAryanKhan
The confidence in his smile that he didn't done anything wrong… pic.twitter.com/FcmlOwEl6K

— iamsrk (@Shahruk53042049) October 5, 2021
What are your views on this? Do let us know in the comments section below