Shahid Kapoor Drops Mushy Pictures With Wife, Mira Rajput From Europe, She Stuns In A Backless Outfit: See Here!!!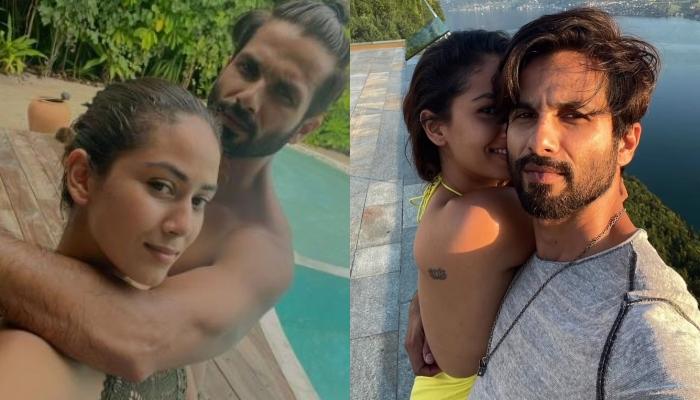 On July 2, 2022, Bollywood stylish actor Shahid Kapoor posted two adorable photos of himself and his wife, Mira Rajput Kapoor, to his Instagram account. Shahid Kapoor, a popular actor from Bollywood, is currently traveling with his family in Europe. He had flown to Switzerland for a romantic getaway with his wife, Mira Rajput Kapoor, and children, Misha Kapoor and Zain Kapoor.
Shahid and Mira kept their fans up to date with lovely glimpses from the same because they are ardent social media users. This time was no different, either. Mira Rajput shared an exquisite picture of her family on vacation on her Instagram account on June 23, 2022. The priceless picture showed Mira standing next to Shahid Kapoor and their children, Misha and Zain, while they were all looking at a body of water.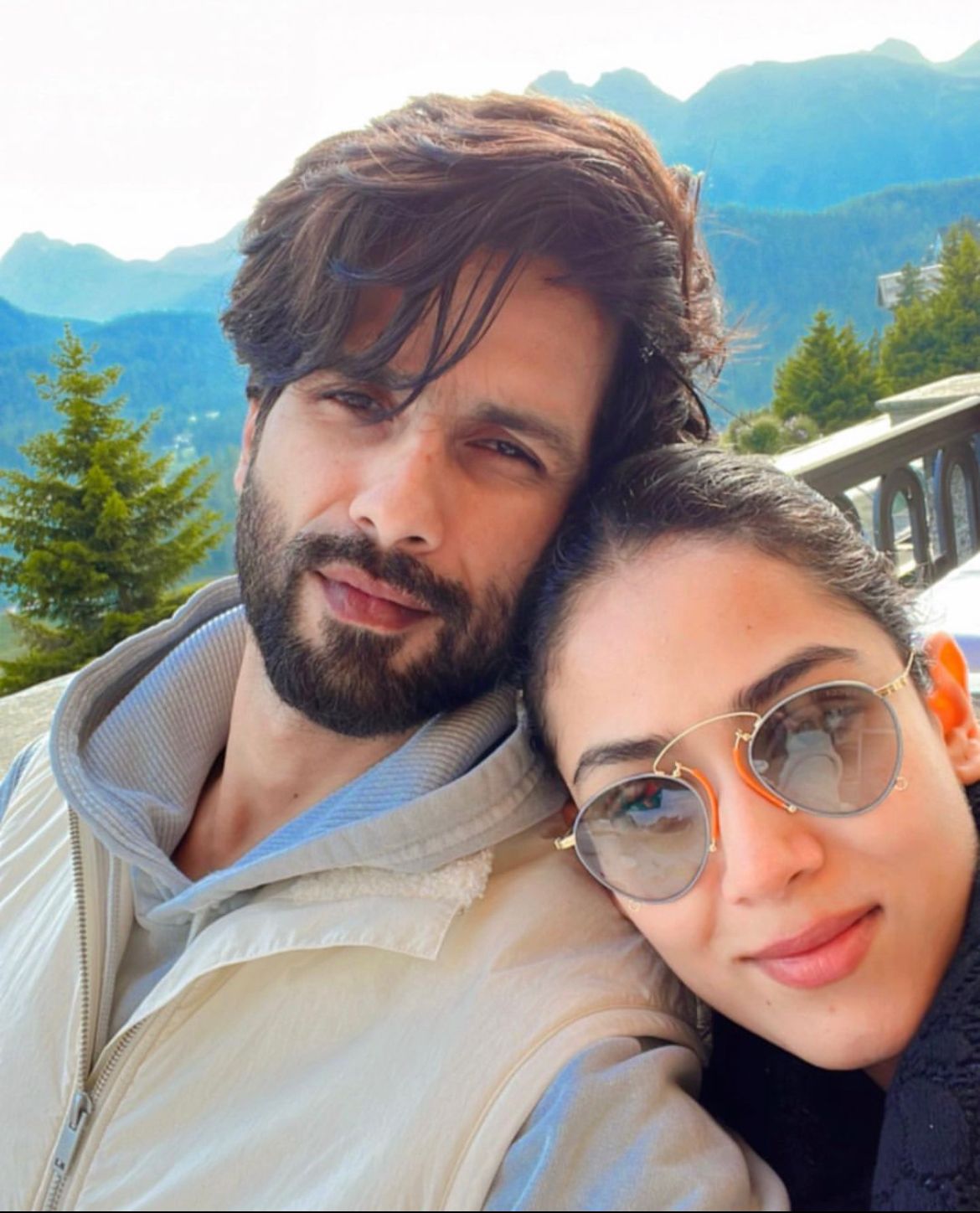 As they took pleasure in the pleasantly cool weather, they dressed in loose, comfortable clothing. We couldn't stop gushing about this gorgeous family portrait because the photo was just too adorable for words. Shahid Kapoor recently shared a cuddly photo with his wife, Mira Rajput Kapoor, on his Instagram account. The picture shows the mother-of-two posing for the camera while leaning on her husband Shahid's shoulder and showing off her sunglasses. The picture of the couple is adorable, and the smile on their faces says it all about how comfortable they feel when they are together.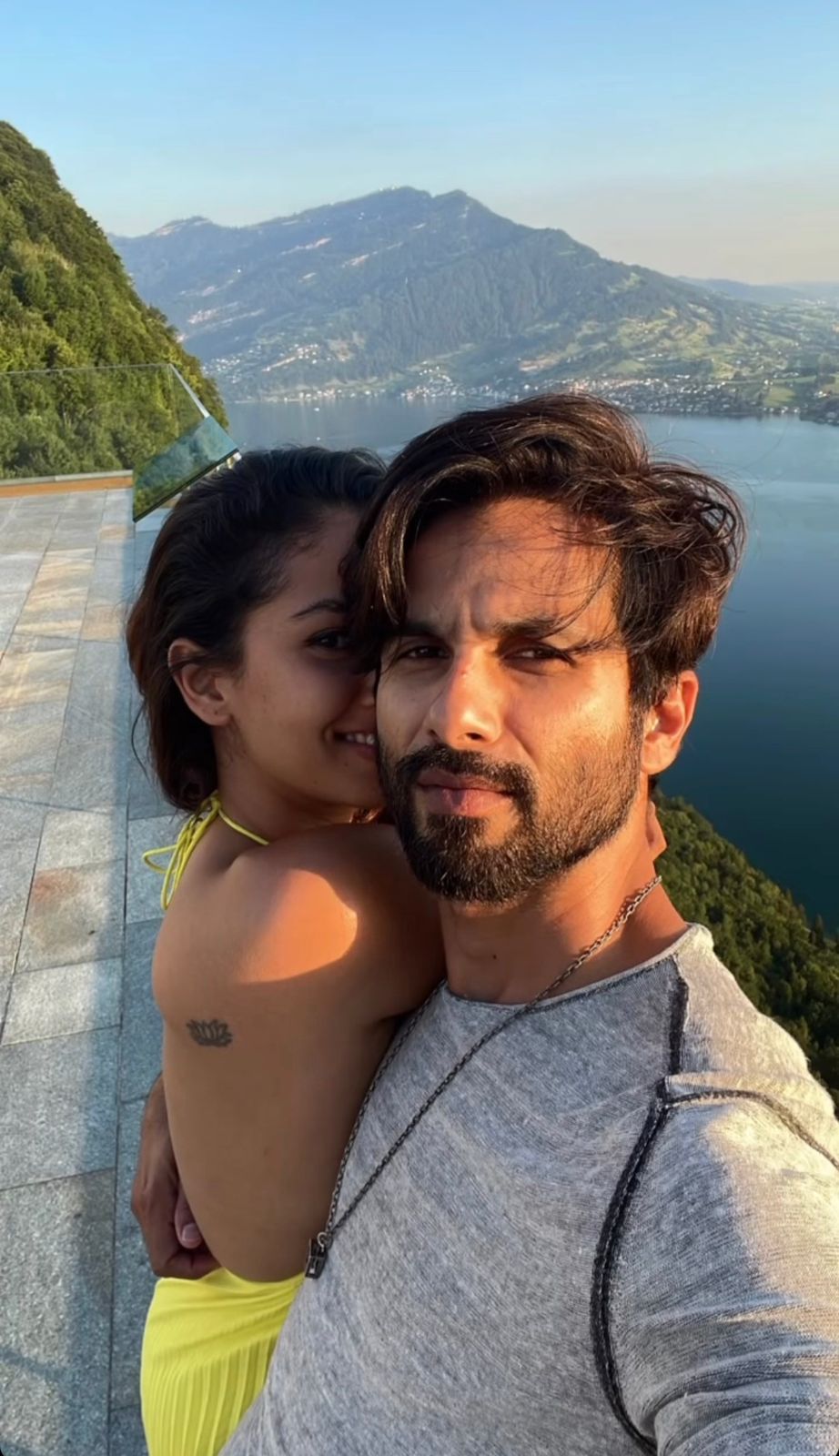 Shahid also shared a picture of himself and his wife, Mira Rajput, on his Instagram Stories. The picture shows the deeply in love couple posing in front of a picturesque scene that includes green mountains and a body of water. Shahid opted for a relaxed and comfortable outfit in contrast to Mira, who looked stunning in a backless yellow jumpsuit. The two made a beautiful pair, and their adorable photo won over hearts everywhere.
On June 25, 2022, Shahid Kapoor shared a picture of his family taken while traveling to Switzerland with his wife, Mira Rajput Kapoor, and kids, Zain and Misha. In the photo, Mira, Misha, and Zain were sitting on a large rock while Shahid was standing on it, taking in the breathtaking scene before them.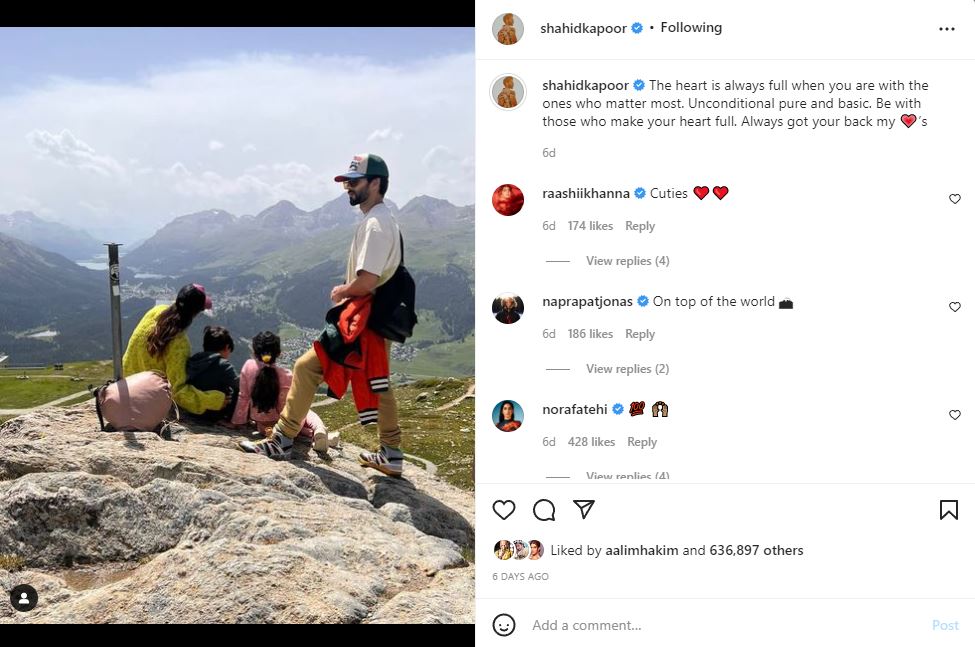 Along with it, Shahid had also written a touching note in the caption, stressing the value of spending time with the people you love the most. He could have written: "The heart is always full when you are with the ones who matter most. Unconditional, pure and basic. Be with those who make your heart full. Always got your back my heart's."
On the professional front, Shahid Kapoor will next be seen in Raj & DK's next title, Farzi, which will premiere digitally.