Salman Khan And Pooja Bhatt Come Forward To Offer Financial Help To Faraaz Khan Who's Battling For Life In ICU
The Fareb game actor Faraaz Khan is battling for his life in the ICU. His medical bills have exceeded his expectations and he is unable to cope with the medical expenses. That's when the Bigg Boss 14 host Salman Khan came forward to offer help. He has offered financial help to the actor and along with Salman Khan, Mahesh Bhatt's daughter Pooja Bhatt has also come forward.
Faraaz Khan was reported to be in critical condition due to chest infection. For his treatment, his brother and Mere Dad Ki Dulhan actor Fahmaan Khan asked for financial help and set up a fundraising platform as they wanted Rs. 25 lakhs for the treatment. However, as per Bigg Boss 1 contestant Kashmera Shah's Instagram post, Salman has cleared all the medical bills and stood by his side at this difficult time.
Taking it to her Instagram, Kashmera wrote, "You are truly a great Human Being. Thank you for taking care of Faraaz Khan and his medical bills. Actor Faraaz Khan of Fareb game is in critical condition and Salman has stood by his side and helped him like he helps so many others. I am and will always remain a true admirer. If people don't like this post I don't care. You have a choice to unfollow me. This is what I think and feel. I think he is the most genuine person I have ever met in this film industry @beingsalmankhan"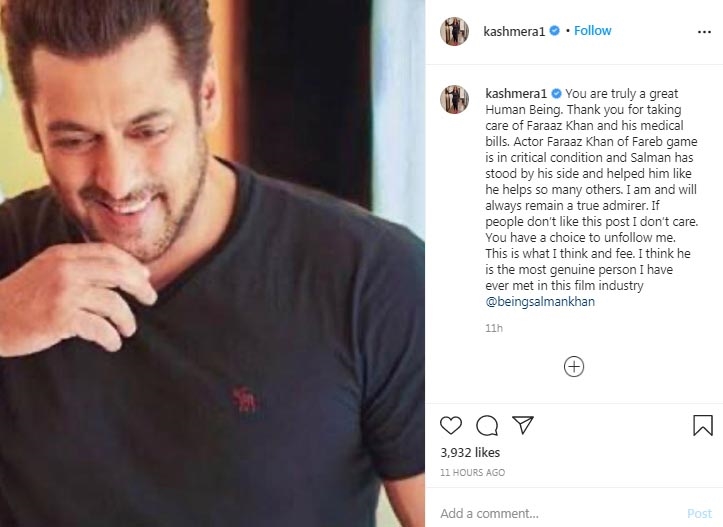 Faraaz Khan's brother Fahmaan spoke about his condition to TOI, "He had been suffering from a cough and chest infection for nearly a year. Recently, his condition worsened and he was hospitalized. He was admitted to the emergency ward of Vikram Hospital, where we found out that he had suffered three consecutive seizures due to a herpes infection in his brain and his condition worsened."
Alia Bhatt's sister Pooja Bhatt has also donated to the fund and requested everyone to reach out to make contributions for the actor. She earlier shared a tweet which read, "Please share and contribute if possible. I am. Would be grateful if any of you can as well."