Revolutionary Filmmaker, Bhansali takes a breather on completing the shoot of Gangubhai Kathiawadi!!
Sanjay Leela Bhansali is finally at peace as he completes the shoot for Gangubai Kathiawadi. The film took two years to complete after a lot of impediments. The film, based on a chapter from Hussain Zaidi's book 'Mafia Queens of Mumbai'. It is scheduled to hit the screens later this year but continues to be plagued by controversies. Director Sanjay Leela Bhansali had been working furtively on the film to meet its release date of July 30.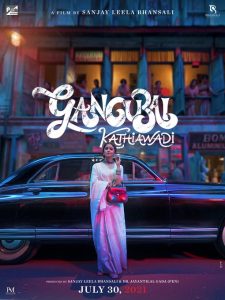 Facing many obstructions like, Alia and Bhansali were summoned by court on several occasions as Gangubai's son also filed a case against the content of the film. He claimed that certain chapters from 'The Mafia Queens of Mumbai' were 'defamatory and tarnished her (Gangubai's) reputation'.
One of the filmmakers Anil Mattoo also claimed duplication, he rues that his movie 'Shuklaji Street' is also based on the same subject. It is inspired by the novel 'Vasaksaaja', which gives an insight into Gangubai's life in Kamathipura of 1974 and the work she did during the drought in Maharashtra, but no action was taken against his allegation.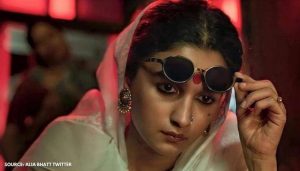 Bhansali tested positive for Covid-19, and the shooting was reportedly been stalled and the entire cast and crew have undergone tests. Previously, the film's shoot had been put on hold due to the lockdown. Aila in her post states all the hurdles they faced and said that it is another film altogether. She said, "This film and set has been through two lockdowns.. two cyclones.. director and actor getting covid during the making!!! the troubles the set has faced is another film all together!"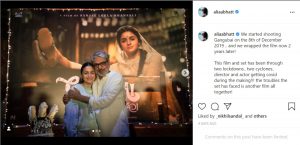 On wrapping up, Alia got emotional and posted about it on Instagram saying, the film took away a part of her. She writes, "When a film ends a part of you ends with it! Today I've lost a part of me.. Gangu I love you! You will be missed". She also talks about her dream of working with Bhansali, comes true. And no one could have prepared her for this journey, better than him.