Rakhi Sawant's Fake 'Husband' Ritesh Singh 'Exposed' As Pictures With First Wife And Kid Go Viral Online; Take A Look!!
Is this yet another publicity stunt of Rakhi Sawant flagging interest in the reality shows Big Boss? Rakhi Sawant's marriage is a big mystery, recently Rakhi Sawant is seen in the Bigg Boss show with her husband Ritesh Singh. When did Rakhi Sawant's marriage take place, it was said, both appeared together in the Bigg Boss show. But Ritesh Singh is not the real husband of Rakhi Sawant, Twitter brought old pictures of Ritesh Singh in front of everyone. And Ritesh Singh also accepted this fact that now his truth has come in front of everyone.
And he also said that Ritesh Singh was asked to do this. It is a very big question why Rakhi Sawant did this? The owner of the Twitter handle, who claims to be Rakhi's husband, has posted photos from what he says was his wedding and more with his wife and child. These pictures are in sync with Rakhi's announcement 'Bigg Boss 14' that her husband was married before.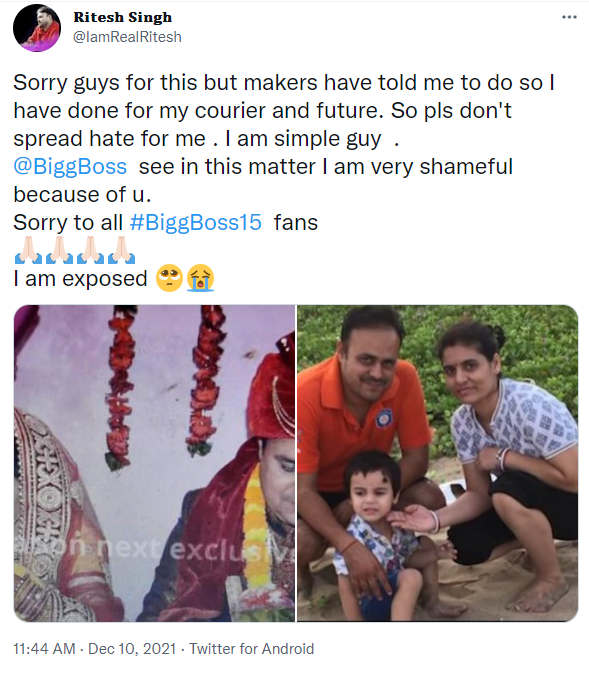 In his tweet, he writes: "Sorry guys for this but the makers have told me to do so. I have done it for my courier [career] and future. So pls don't spread hate for me. I am a simple guy. @BiggBoss see in this matter I am very shameful because of you. Sorry to all #BiggBoss15 fans. I am exposed." It is also being said on social media that the man claiming to be Rakhi Sawant's husband is actually a camera person from the reality show. These pictures have raised many questions.
Rakhi Sawant's husband Ritesh is a contestant in Bigg Boss 15. Though, in Friday's Big Boss episode, the couple was seen sharing a small kiss. Rakhi and Ritesh were in the garden along with other housemates. They talked about their marriage after that everyone demanded that the couple share a kiss. They shouted and said, "Kiss kiss kiss kiss." Ritesh went up to Rakhi, pulled her closer and they shared a small kiss. But still, these questions have not been answered openly. Even now the question remains who is Ritesh Singh after all?
Read more articles here:
https://ent.womansera.com/bharti-singh-announces-her-pregnancy-news-all-set-to-embrace-parenthood-with-haarsh-limbachiyaa-next-year-read-on-here/