Milind Soman's Wife Ankita Konwar Opens About Being Abused As A Child; Actor Says 'You Have Come A Long way Baby'
Actor and fitness enthusiast Milind Soman and wife Ankita Konwar broke the internet when the couple married each other despite having a huge age difference. The duo is quite popular on social media platforms for breaking the norms and doing unconventional things. The couple loves to share about their life on the internet which goes viral instantly. Recently Ankita Konwar posted a reel on her official Instagram handle that has voice-over saying "its trauma baby" and Ankita listed a number of negative experiences she has gone through in her life.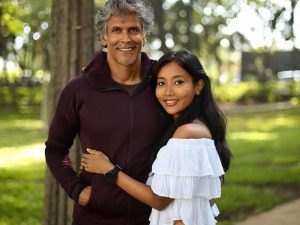 The video instantly garnered a lot of love, attention, and support from her fans and followers, who showered her post with heartwarming comments. Ankita posted the reel and captioned it as, "Abused as a child, Grew up in hostels, Lived in foreign cities alone, Cheated by people I trusted most. Lost a brother, Lost ex-lover, Lost my father. Being called names for the way I look and judged for being with the person I love. So if you see me being optimistic, just know that I am! Love yourself. #loveyourself #feelitreelit #keepingitreal."
View this post on Instagram
Taking the post to notice, husband Milind Soman also posted a loving comment on his wife's Instagram reel that won the hearts of the netizens. "You've come a long way, baby," he wrote. Milind and Ankita dated for about five years before getting married to each other in a Maharashtrian style in April 2018. Ankita was 26 years old when she got married to Milind who was 52 years at the time of their wedding.