Mehndi Actor Faraaz Khan Passes Away, Pooja Bhatt Broke The Sad News With A Heavy Heart
Mehndi actor Faraaz Khan was battling for his life since a few weeks. The actor was reported to be in critical condition due to chest infection. Faraaz Khan was also suffering from a neurological disorder and his family had also initiated a fund raiser for him. And that's when Salman Khan and Mahesh Bhatt's daughter Pooja Bhatt offered financial help to the actor. However, it couldn't help and a while back Pooja Bhatt took to her Twitter handle to share that Faraaz Khan is no more.
Pooja Bhatt tweeted, "With a heavy heart I break the news that #FaraazKhan has left us for what I believe, is a better place. Gratitude to all for your help & good wishes when he needed it most. Please keep his family in your thoughts & prayers. The void he has left behind will be impossible to fill."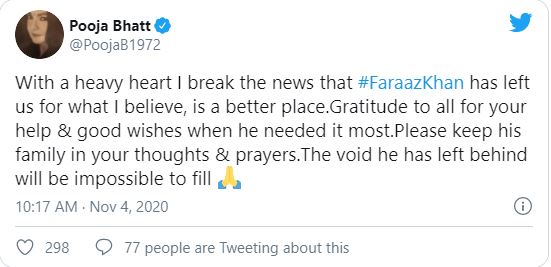 Earlier Pooja Bhatt had urged netizens on Twitter to contribute funds towards the actor's treatment. "Please share and contribute if possible. I am. Would be grateful if any of you can as well". Faraaz's brother and Fahmaan Khan asked for financial help and set up a fundraising platform as they wanted Rs. 25 lakhs for the treatment. As per Bigg Boss 1 contestant Kashmera Shah's Instagram post, Salman has cleared all the medical bills and stood by his side at this difficult time.
Faraaz Khan's brother Fahmaan spoke about his condition to TOI, "He had been suffering from a cough and chest infection for nearly a year. Recently, his condition worsened and he was hospitalized. He was admitted to the emergency ward of Vikram Hospital, where we found out that he had suffered three consecutive seizures due to a herpes infection in his brain and his condition worsened."