Mandira Bedi Hosts A Grand Party For Newlywed Bestie, Mouni Roy, And Her Hubby Suraj Nambiar; See Inside!
Just-married Mouni Roy's best friend Mandira Bedi organized a lavish party at her home, for her newly bride best friend, Mouni Roy and Suraj Nambiar. Mouni Roy shared endearing pictures with a sweet heartfelt note. The actress Mouni Roy had tied the knot with her longtime beau, Suraj Nambiar, on January 27 in Goa and we have still fawned over her wedding beauty.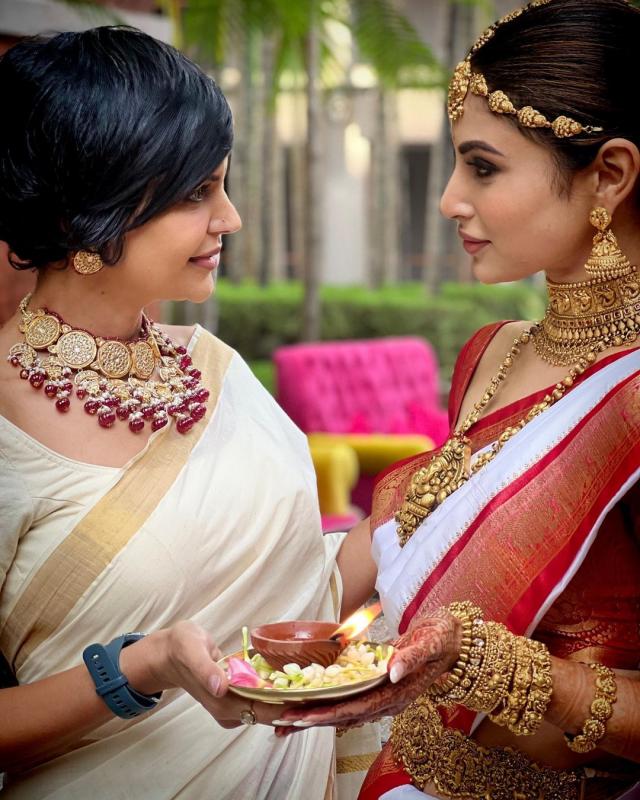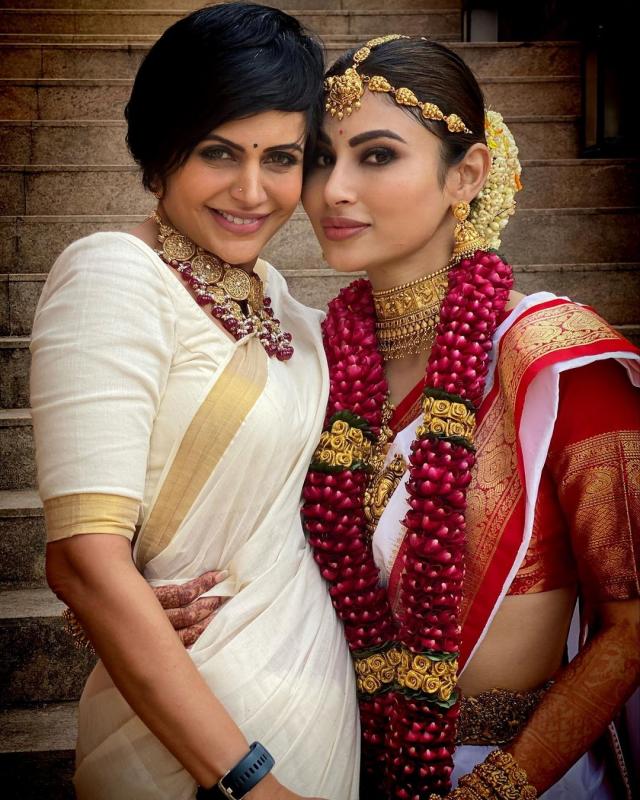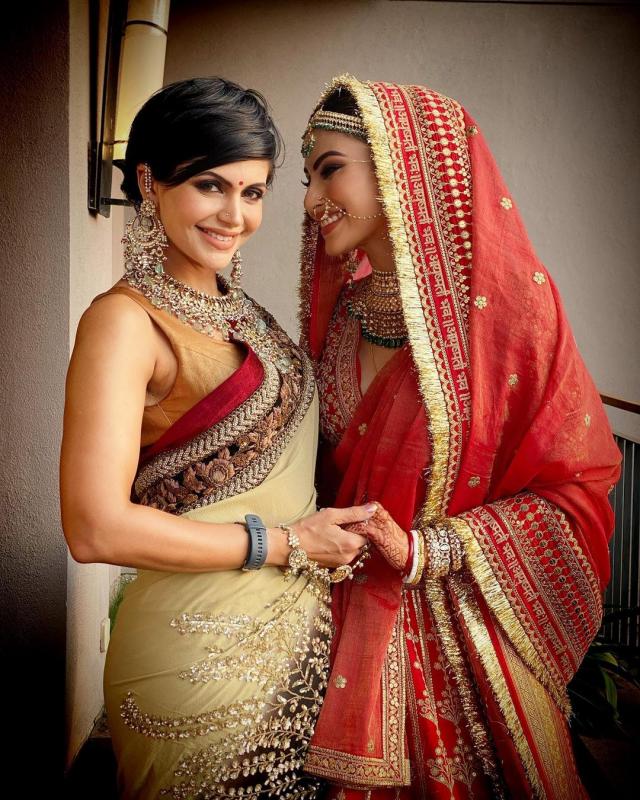 Mouni Roy had worn two outfits on her wedding day and had given propriety to both Malayali and Bengali traditions. But one of the best things about Mouni's wedding was her connection with her friends and family. Mouni Roy has shown her love for her family and friends during her wedding. On February 2, the actress Mouni Roy's best friend, Mandira Bedi, had shared a post on her Instagram handle and had shared a few lovable pictures of them, from the wedding festivities.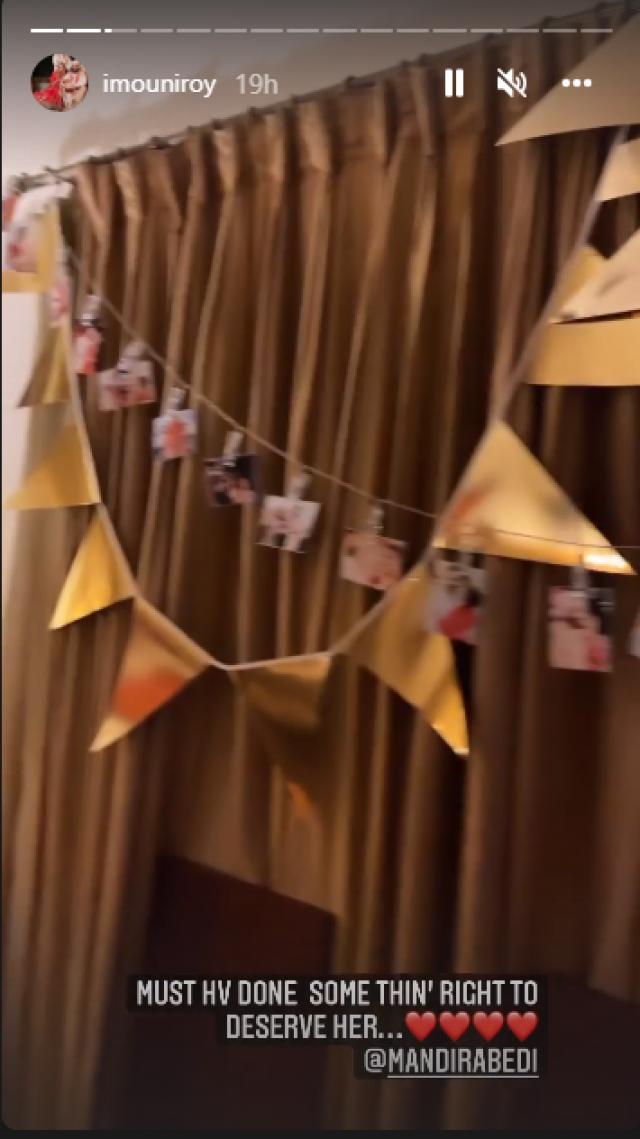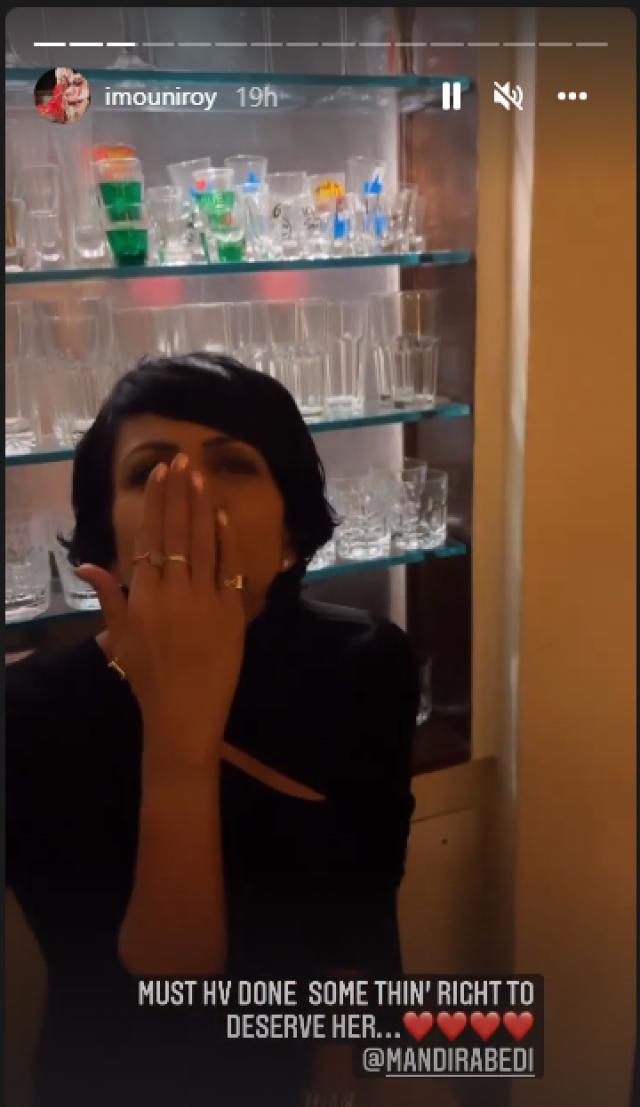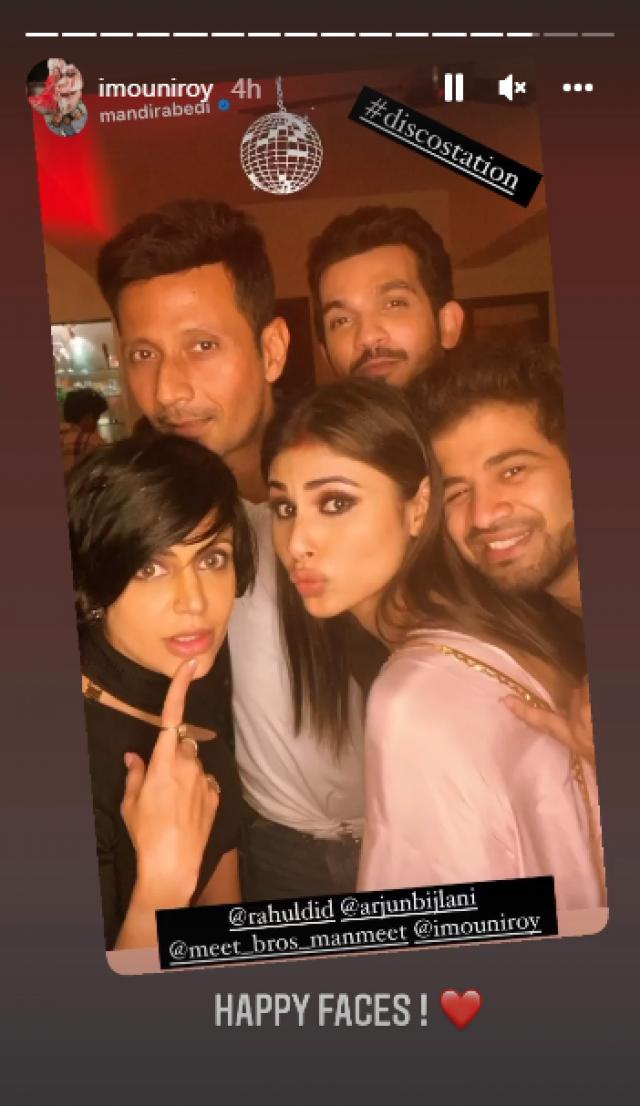 Alongside pictures, she had written a delightful caption for her dearest friend, Mouni Roy: "Here's looking at you, my loving and lovely friend.. beautiful inside and out. Love you Mon! @mouniroy." On January 4, Mandira Bedi arranged a party for her best friend, at her home. Mouni Roy shared the pictures on her Instagram stories showing the filled-love celebrations, what they had. Mandira Bed's home was embellished with attractive colourful lights.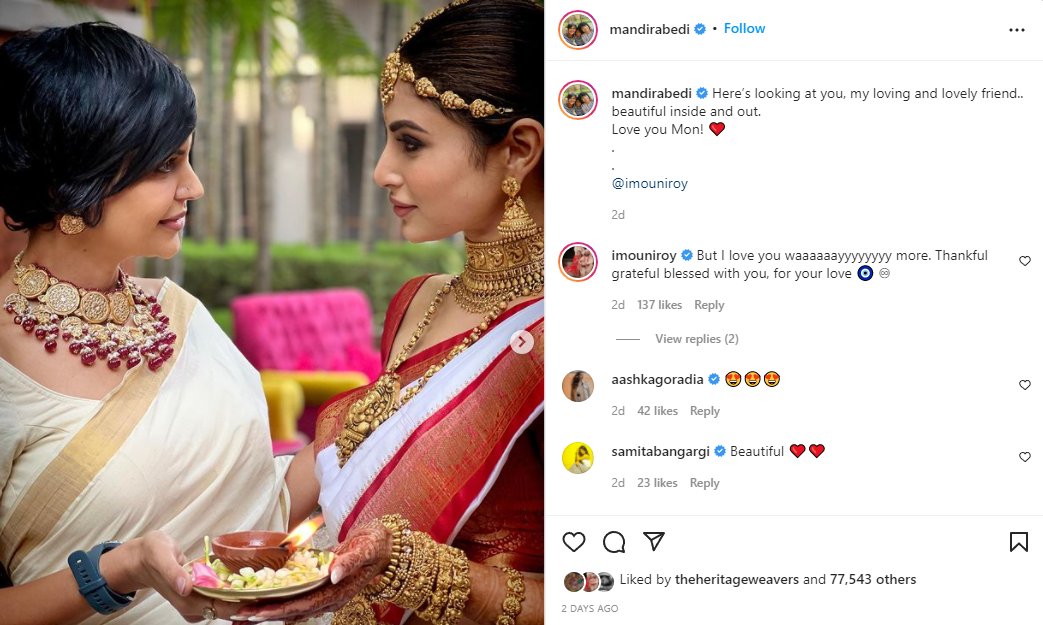 A few moments ago, Mouni Roy shared a post on her Instagram handle and shared pictures with her best friend Mandira Bedi. In the pictures, they were posing while sitting on a staircase at Mandira's home. In the next picture, Mouni's husband, Suraj Nambiar also can be seen hugging his wife, Mandira Bedi. She captioned the pictures as: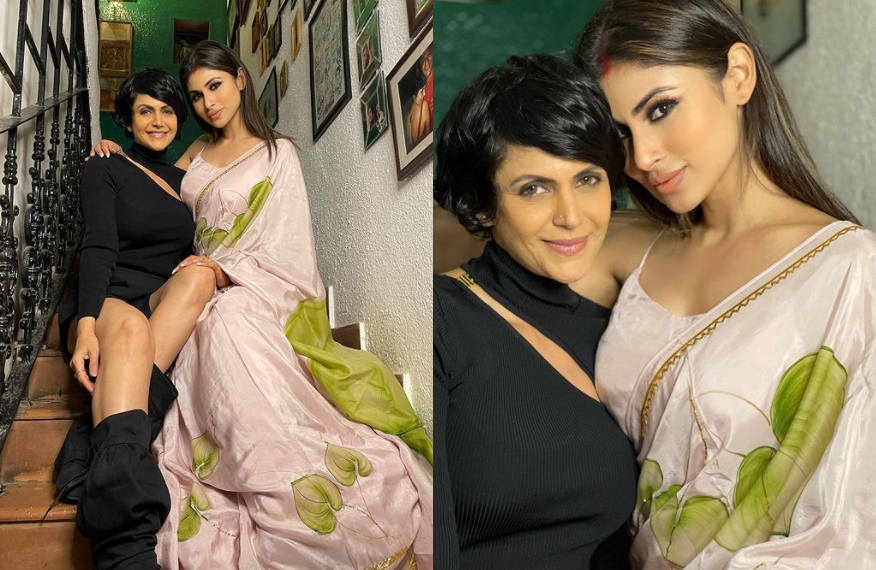 "My friends are one of my life's greatest treasures. Friends that are loyal are always there to make you laugh when you are down, they are not afraid to help you avoid mistakes and they look out for your best interest. I love my friends. This one was hard to find, but it'll last a lifetime. My dearest M thank you so so much for inviting us all to your home, making us laugh, cry, eat, make merry & dance the night away… you go beyond to make everything perfect…loved every sec of every minute… WUVV YOU SILLY @mandirabedi."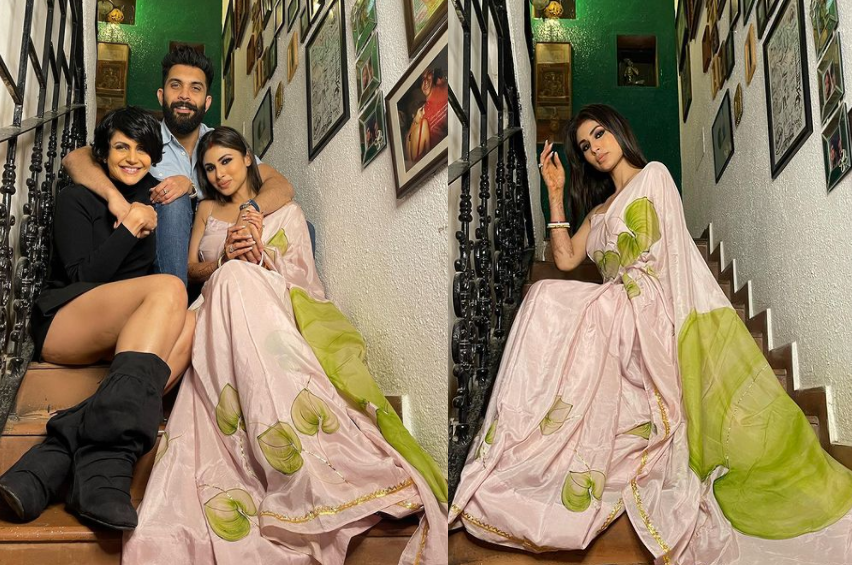 As Mouni Roy shared the lovely pictures, her best friend also commented and wrote a gooey line for her friend. Mandira wrote: "Oh Mon…. All I can say is Oh Mon.. love you so so much!!!"
After Mouni and Suraj had got married in the Malayali style wedding on the morning of January 27, Mandira had shared a post on her Instagram handle and had shared sequences of unforgettable pictures with the newlyweds. Also, with the pictures, she had written a lovable caption: "Ecstatic to be with and thrilled for my fav people Mr and Mrs Nambiar !! Beautiful ceremony! I love you @imouniroy @nambiar13."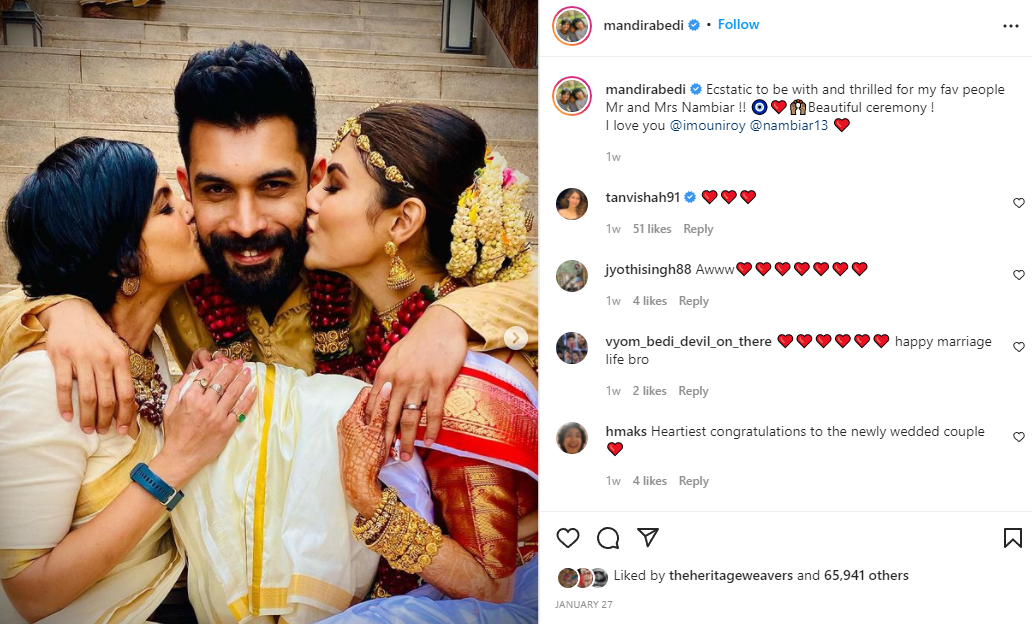 Look at below: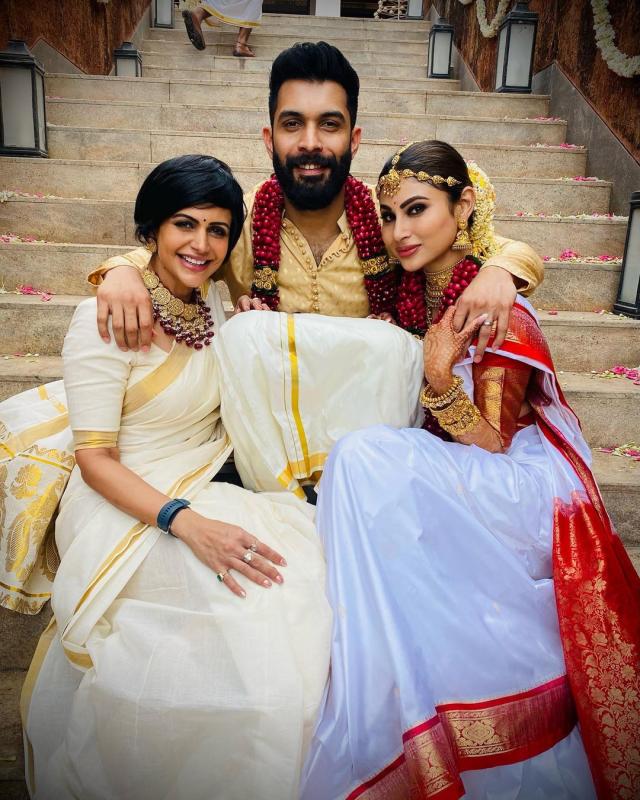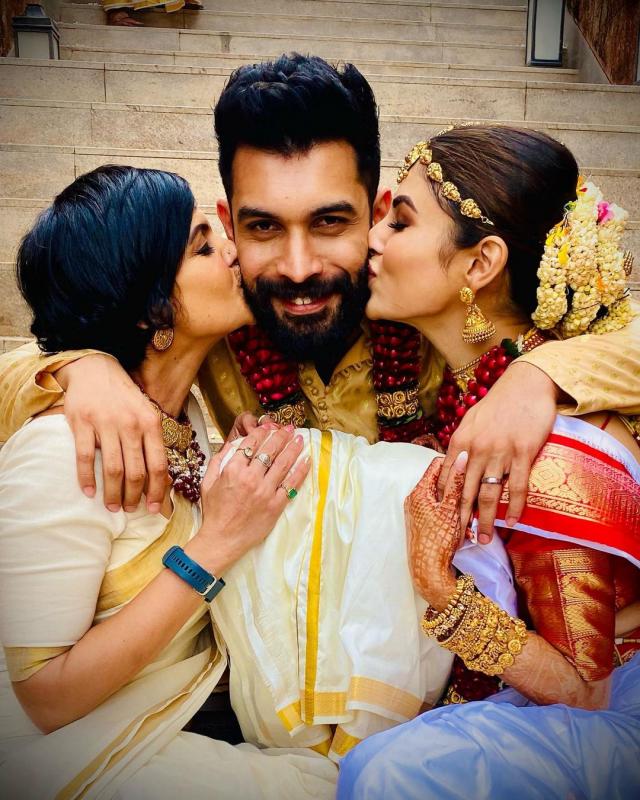 Mouni and Mandira setting a true best-friend goals for everyone!