Kalki Koechlin Defends Ex-Husband Anurag Kashyap From Sexual Assault Allegations, "When I Felt Unsafe In Work, You Supported Me"
Sexual assault or #MeToo allegations against Anurag Kashyap have taken the Bollywood by a storm. It seems everyone has found another thing to focus on after three months of following Sushant Singh Rajput's case. Anurag Kashyap's ex-wife Kalki Koechlin has come forward with an open letter for the filmmaker to defend him and support him during this storm.
Kalki Koechlin took to her Instagram handle and penned down a long post talking about the amazing person Anurag Kashyap is. The post reads, "Dear Anurag, Don't let this social media circus get to you, you have fought for the freedom of women in your scripts, you've defended their integrity in your professional space as well as in your personal life. I have been witness to it, in the personal and professional space you have always seen me as you equal, you have stood up for my integrity even after our divorce, and you have supported me when I felt unsafe in a work environment even before we got together."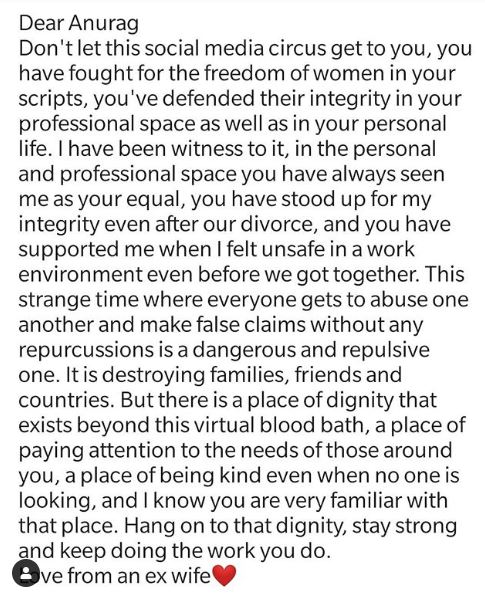 Yesterday, Anurag Kashyap's first wife Aarti Bajaj came out in support of the filmmaker. Taking to her social media handle, Aarti wrote, "First wife here.. You are a rockstar @anuragkashyap10. Keep empowering women as you do and the safest place you create for all of them. I see it first hand with our daughter. There is no integrity left and the world is full of losers and no brains baying for blood of anyone who has a voice. If everybody spends the energy which they use in hating others constructively this world will be a better place."
Meanwhile, Anurag Kashyap's lawyer issued a statement today on behalf of the filmmaker. According to the latest reports, Payal Ghosh will be filing an official complaint against Anurag Kashyap at Oshiwara Police Station in Mumbai today, that is, September 21.