"Havoc" in Manali as increase in tourist
People because of the scorching heat in the cities are going to tourist spots like Mussoorie, Shimla , Manali etc in order to  relax and also enjoying after a long period of lock down which have make people to live in their houses. But being a human we have a tendency to forget the lessons we have learned and repeat the mistake. The pictures of Manali are going viral on the internet  in which which shows how irresponsible people are. After the second wave the government have ease norms for certain states including Manali also which will create problem for all the people.
Its a good news for the Hoteliers as well as business owners because its economy depend on the tourism . The occupancy in the hotels have increase manifold which is good for economy but also a matter of concern for as it is inviting the third wave of the covid super soon. The residents of the place are also worried about the situation. People should understand that the havoc will only create problem for ourselves only like the second wave of corona virus have made and will only invite the third lock down in the whole country.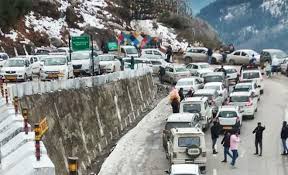 Many people are using social media platforms for creating awareness about the situation , while others are making memes and jokes for them. We have forgotten the situation when there was no beds in hospitals , and now the scenario is there are no beds in the hotel rooms. Hotels are fully reserved, streets are crowded . It seems like some kind of "Mela" is going on in the Manali. Government should take necessary steps to control the situation before its get out of control and Manali will bring the third wave and people who are celebrating their holiday will upsurge the corona virus , spreading the virus by going back to their respective hometown.