Filmmaker Ahmed Khan Gifted His Wife Shaira A Limited Edition Batmobile On Her Birthday
Filmmaker Ahmed Khan made headlines for gifting his wife Shaira a limited edition Batmobile on her birthday. The car is apparently based on the design of the Batmobile which was driven by actor Michael Keaton while filming the 1989's Batman and 1992's Batman Returns.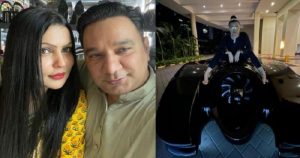 The car has been designed by the Batman director Tim Burton, which has been the best representation of Batmobile. The filmmaker and choreographer Ahmed Khan's wife Shaira recently took to her Instagram handle to share the pictures of the limited edition Batmobile. She even captioned the post by thanking her husband for making her dream come true. "Thank you love Ahmed Khan for this dream come true … #Ourdreamcar #keatonmobile1989 #batmobile #keepingupwiththekhans."
View this post on Instagram
Within few minutes of posting pictures, the post went viral and many celebrities commented on the pictures. Actors such as Ravena Tandon, Disha Patani, Genelia D'Souza, and Sanjana Sanghi couldn't believe their eyes and wrote comments like "insane" and "woah, stunning."
In another post, Shaira posted a video to reveal the first look of her car. "The Reveal #keatonbatmobile1989 Thanku #gotham motors Ohio" she wrote.
To wish his wife on her birthday, Ahmed Khan also posted a picture of Shaira and showered her with adorable compliments in the caption. "HAPPY BIRTHDAY to my stunner, breathtaking and drop-dead gorgeous wifey …always want u to flow like blood in my veins." He wrote, The couple is also blessed with two boys.