Bollywood actress Sara Ali Khan, who is brought up by her mother, Amrita Singh Saif Ali Khan's ex-wife. In the year 2018, Sara made her Bollywood debut with her excellent acting skills in Kedarnath. Being a daughter of Saif and Amrita everyone's expectation is quite high from Sara. She has done several commercials as well. The diva is also known for being one of the most stylish actresses in the industry.
Sara is one of the most engaged actresses on Instagram, one can always laugh hard while seeing the hilarious videos that she posts and her Knock knock whose this short videos with her brother Ibrahim. She shared funny, quirky videos featuring her family members or her crew members. Additionally, for her captions, the actress likes to use mention poetry's or couplets and sometimes loved filled captions. Now recently the actress was on vacation with her mom and brother and sharing a glimpse of the same she had shared a hilarious video in which she turned reporter for her mother Amrita.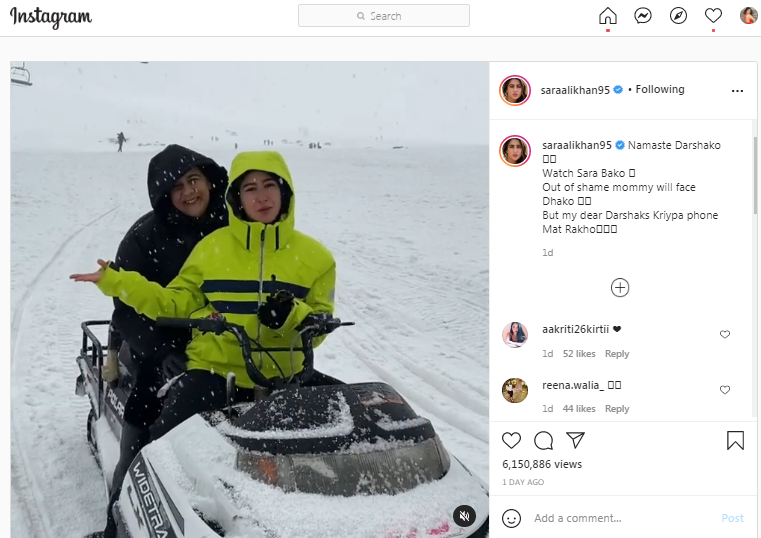 Sara Ali Khan's recent video with mother Amrita Singh from their holiday in Kashmir is about every devil child who makes fun and enjoys every second of their lives. On Monday she shared a video of herself with Amrita taking a Gandola ride, where she could be seen getting scared of being up in the air while Sara jokingly recites poetry describing her mother's experience. While Sara is seen enjoying the ride, Amrita can be seen reciting some mantras to fight her heightened fear.
In the second part of the video, she says, "Hum aagaye hain upar. Maza aaya super duper. Mummy has been a trooper," while Amrita cannot stop laughing at her daughter's poetry. Sara captioned the video as, "Namaste Darshako Watch Sara Bako Out of shame mommy will face Dhako But my dear Darshaks Kriypa phone Mat Rakho."