Bigg Boss 14: Evicted Shehzad Deol Says He's Hurt For Being Out: "I Thought It Would Be A Fair Game"
Shehzad Deol was one of the many contestants who entered the  Bigg Boss 14 house. Everyone had really high expectations from the Punjabi boy but his eviction left many shattered. The eviction didn't take place like regular evictions in Bigg Boss house. He was voted out by the seniors and the other inmates. After getting out of the house, he has written a long post on Instagram stating how he didn't think his journey would end so soon. He wanted it to last longer and if it were up to the viewers, he would've still been inside.
His post could be read as "I thought it would be a fair game. I thought I was on a two way road. But the journey has ended too soon. One which though has given me the love and support from all of you!!! I know If it was upto you guys, I would have been inside. But it is what is, toh koi gaal nahi Zindagi kabhi fair nahi hondi . Yeh Bhi shayad hona tha. But I'm here with a promise to continue entertaining you. Aapka Punjab Da Munda, Shehzad Deol".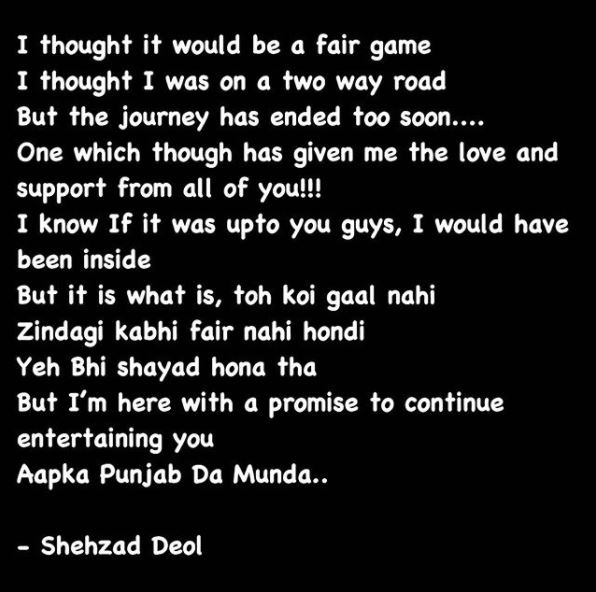 This Punjabi boy was definitely a heartthrob that many wanted to see inside. Even the first evicted contestant Sara Gurpal also stated that Shehzad Deol would've been Inside had it been up to the voting. Before getting evicted, this Punjabi star happily wore the robe of Gayab person and still kept entertaining all his fans. The eliminations are being held by the seniors instead of the audience and hence this has happened.
Talking about the eviction of Shehzad Deol from the show, Sara wrote, "I will not be happy if it's true. I think Shehzad is deserving just like me. Throwing him out would not be fair. I want to ask what is Jaan doing there? Can somebody tell me what is he doing? Since day 1 what he has been doing? I could see audiences also asking the same question about him and Nishnat. Chalo Nishant ka to abhi is week mein kuch hua bhi jab unhone task perform kiya. How can they send someone who is actually deserving? Mujhe bhaut dukh hoga agar vo sach mein bahar hogaya hai.   Naa contestants ke haath mein chhodo, na seniors ke haath mein chhodo, ye janta ka show hai aur 14 saal se janta ki wajah se hi chal raha hai. So, I think they should now open the lines and see who people like. Let them decide who deserves to be inside. After I came out, I saw people saying it was unfair, which makes me feel if it would have been a public decision, I might have not come out".