Anurag Kashyap Asks Kangana To Go To LAC And Fight Against China, Actress Hits Back With Perfect Response
Kangana Ranaut's bold attitude is getting her a lot of attention and even landing her into many controversies. The actress has been quite vocal about her opinions on social media platforms, especially Twitter. Recently, she shared a tweet about her love for the country and how she can go any length for the same. Anurag Kashyap tried to take a jibe at Kangana and troll her by asking her to reach LAC, which is just a day's journey from her home, and fight at the border. Now she's taken back to Twitter to hit back at Anurag Kashyap in a sassy manner.
In response to Kangana ranaut's tweet, Anurag Kashyap wrote, "बस एक तू ही है बहन – इकलौती मणिकर्णिका । तू ना चार पाँच को ले के चढ़ जा चीन पे।देखो कितना अंदर तक घुस आए हैं । दिखा दे उनको भी कि जब तक तू है इस देश का कोई बाल भी बाँका नहीं कर सकता। तेरे घर से एक दिन का सफ़र है बस LAC का । जा शेरनी। जय हिंद । (Only you can save us, sister -the one and only Manikarnika. Take four or five people with you and go fight China. See how far inside our territory they've come. Show them that India has nothing to worry about until the time that you are there to protect us. The LAC is just a day's journey from your house. Go, our tigress. Jai Hind.)"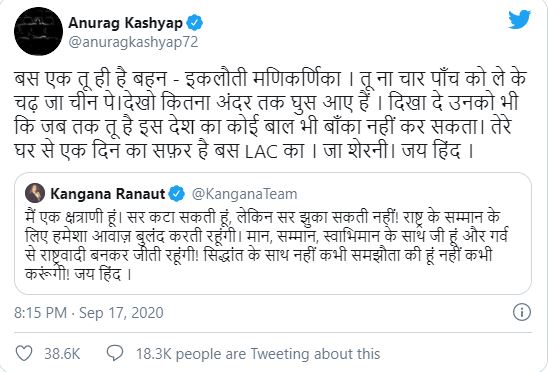 Soon, Kangana Ranaut responded to Anurag Kashyap's tweet and sarcastically said she will herself go to the border and told Anurag Kashyap to go to Olympics at India want more gold medals. She then took a jibe saying that this isn't some B-grade film, and questioned why he is taking metaphors literally. She also tweeted how he was very clever back when they were friends. "ठीक है मैं बॉर्डर पे जाती हूँ आप अगले अलिम्पिक्स में चले जाना, देश को गोल्ड मडेलस चाहिए हा हा हा यह सब कोई बी ग्रेड फ़िल्म नहीं है जहां कलाकार कुछ भी बन जाता है, आप तो मेटफ़ॉर्ज़ को लिटरली लेने लगे, इतने मंदबुद्धि कबसे हो गए, जब हमारी दोस्ती थी तब तो काफ़ी चतुर थे🙂," she wrote.