Unlike any other stepmother and stepdaughter relationship, Sara Ali Khan shares an extremely warm equation with her stepmother Kareena Kapoor Khan. During many interviews, Sara Ali Khan had talked about her relationship with Kareena Kapoor and how she doesn't like to think of her as a stepmom, rather like a close friend. She has a cordial relationship with her and loves her as her father Saif Ali Khan is a happier person with Kareena.
During an interview with Kareena Kapoor on her radio show What Women Want, Sara Ali Khan revealed many secrets. When Kareena asked Sara if she ever sent naughty texts to someone, Sara replied in the affirmative. Kareena then asked, "Can I tell him (Saif Ali Khan)?" Sara replied, "Sure, I mean, he might watch it."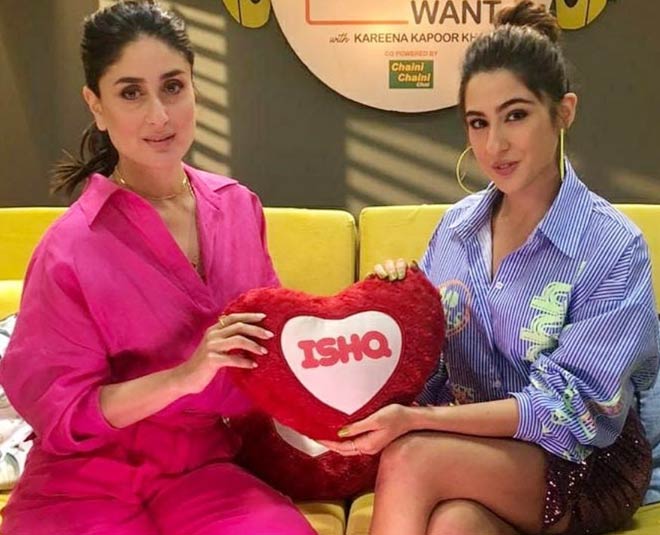 Kareena further asked Sara on pulling a no-show on a date, to which, she replied, "Maybe. But it's not like a no-show. It's like a 'haan, milte hai' and then not following up. Not like 'I'll see you there' and not turning up. Always generic, hawa-hawa mein. Nothing particular," Sara said admitting that she had given out a fake phone number.
Kareena then went on to ask Sara if she ever had a one –night stand. "I don't think I should be asking you this question but I don't know. I mean, we're in a modern family. A one-night stand?" she asked. Sara replied "Never!" To which Kareena breathed a sigh of relief.
On giving excuses to avoid getting intimate? Sara said, "Have you met me? I'm tired of hearing excuses." On rejecting a co-star who made advances to her, Sara replied, "No, yaar! Nobody has ever made an advance at me. I have had very great working relationships with my co-stars."