Trolls Said "Tum Bhi Mar Jao" After Siddharth's Death Says Jasleen Matharu In A Video From Hospital
Bigg Boss 14 winner Siddharth Shukla's untimely demise has left us shaken to the core. The 40-year-old actor passed away after suffering a massive heart attack. His death has sent shockwaves across the entertainment industry and people close to him are still trying to come to terms with his untimely demise following a cardiac arrest.
Just like everyone Jasleen Matharu is too shocked by Siddharth's sudden demise. She took to Instagram to pay her tribute to the late actor and wrote, "RIP Sidharth Shukla. Still can't believe this. Zindagi ka kuch pata nahi (No guarantee of life)". Along with the note, she also shared a video in memory of Sidharth and her experience working with a 'calm, composed and supremely talented' person like him.
Jasleen's post for Sidharth was all heart and genuine but a certain troll decided to make it nasty by writing to her, "Bahut jaldi tum bhi mar jao (Very soon you also die)." Jasleen lost her cool and schooled this person for making a joke out of someone's death. "Kisi ka death ka mazaak banate sharam nahi aati?" , replied a furious Jasleen by further adding, "Sirf tum zinda rehna chahte ho? Sharam nahi aati aisa likhte hue? Itna ghatiya koi kaisa ho sakta hai (Only you can stay alive, aren't you ashamed of writing this? How can someone be so disgusting?)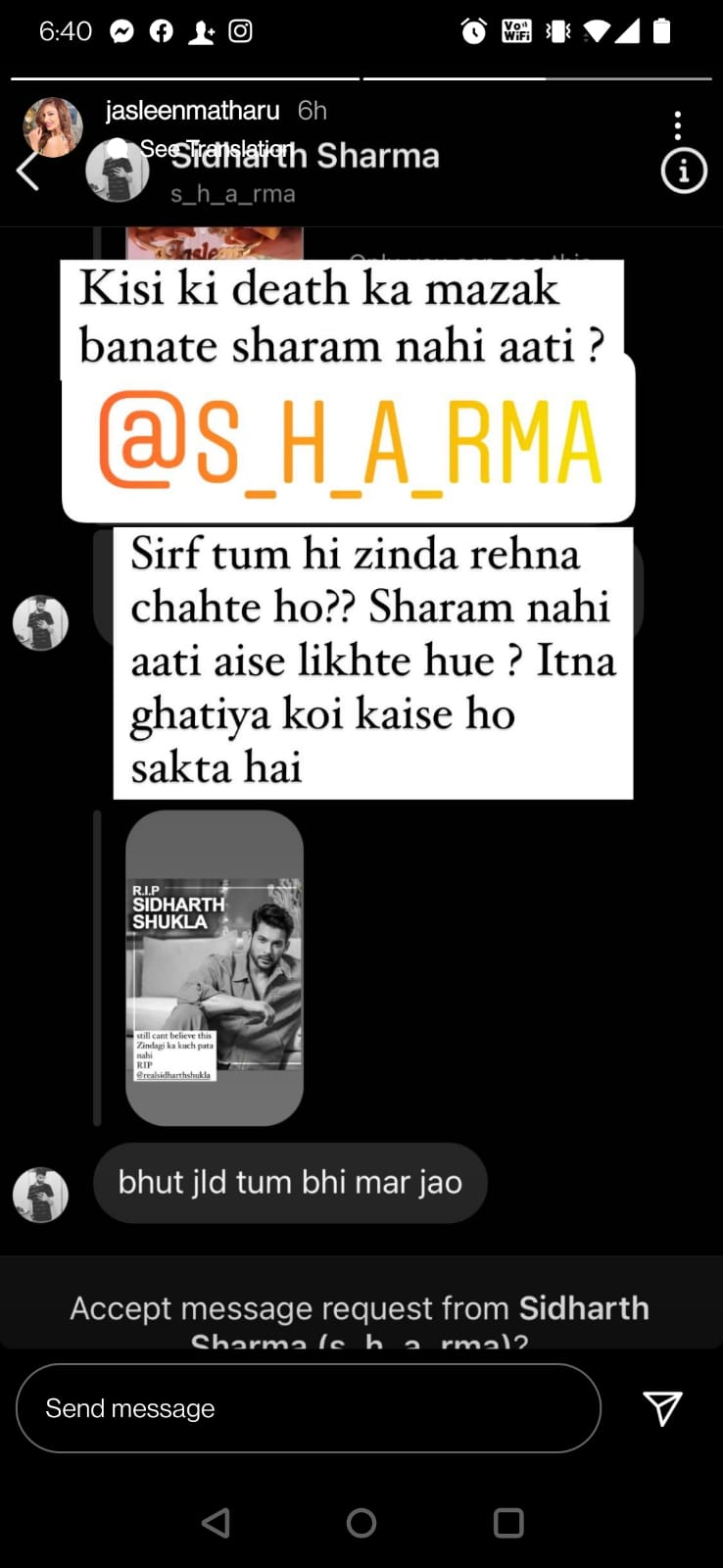 Jasleen was so much affected by the trolling and Siddharth's tragic demise that she had to be hospitalised. Lying in the hospital bed with IV drip fixed into her left palm, Jasleen said in Hindi, "The day Sidharth died, I had visited his home. I was totally shaken up – first, on hearing the news and then, seeing the atmosphere at his place".
After meeting Shehnaaz (Gill) and aunty (Sidharth's mother), when I came home, I saw messages I had received, which said: 'Tum bhi mar jao (you also die)'. This is the first time in my life that I have been affected so badly. I thought to myself – how unpredictable is life, everything feels so strange. I don't know what happened but I had temperature (103 degree) yesterday and I had to be hospitalised. Take care of yourself and pray that I, too, get well soon."Sharing the video, she wrote: "Will be fine soon, Will be back. Apna Apna dhyan de (Take care of yourself)."
Stay tuned for more such updates.