Sona Mohapatra Slams Kangana Ranaut's Sister Rangoli For Calling Her 'Junk', Calls Kangana Without Intellect
Social media has become a battleground for so many now. Any debate in any industry is reflected on a heated argument on social media. People are more open than ever in sharing any views of theirs on social media. Now, there has been an ongoing battle between Sona Mohapatra and Kangana Ranaut's sister Rangoli. Apparently, it started when Sona called out Kangana on her selective feminism tweet for Anushka. Even before, she had commented on the whole haramkhor fiasco. Now, Rangoli didn't like Sona Mohapatra's response and called her a below average junk. Sona couldn't take it either and there's a whole exchange of argument and tweets between the two.
Reacting to Sona Mahapatra's tweet, Rangoli wrote, "Sona ji I don't even know who you are and what you do, but I keep seeing you on Kangana's Google page all the time commenting on everything that she says, Kangana loves responding to trolls who stimulate her intellectually or emotionally. What will she talk to you about? You have nothing to offer her, she can't stand below average junk.. @sonamohapatra."
In response to Rangoli's tweet, Sona wrote, "Hahaha..the sister of the flag-bearer of the fight against what?Not nepotism for sure. My sisters don't speak for me or troll for me,I have two.Also, Kangana might be impressing the mediocre with her messiah avatar, not me, surely not any basic intellect, forget intellectual." Take a look: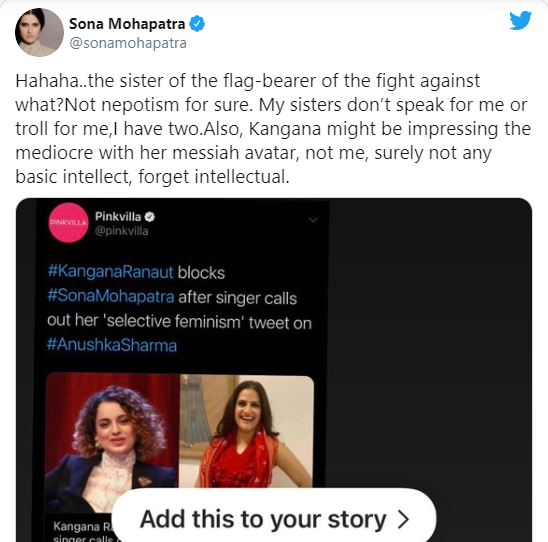 Sona Mohapatra, in her tweet about Kangana, wrote how 'haramkhor' statement was wrong, but it wasn't misogynistic, like she claimed. She then urged Kangana not to play the victim woman card.