Irrfan Khan's Wife Reveals Late Actor's Desire For A Daughter, "A Girl Child Got Deprived Of Irrfan's Parenting"
Irrfan Khan's demise was one of the saddest news in 2020 and everyone mourned the passing away of the talented actor. His wife Sutapa Sikdar has been very strong all this while, sharing her thoughts and memories of Irrfan Khan with everyone. Now, she has shared yet another memory of her beloved husband that will move everyone.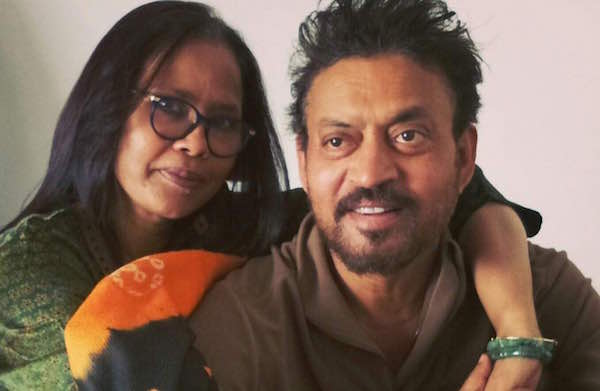 On 27th September, it was daughter's day and many Bollywood celebrities such as Shilpa Shetty, Mira Rajput, Amitabh Bacchhan, Anil Kapoor, Ajay Devgn, Ayushmann Khurrana, Sanjay Dutt and many others have shared heartfelt posts for their daughters along with beautiful pictures. Irrfan Khan's wife Sutapa Sikdar, shared a video on her social media page and penned down a note mentioning how Irrfan Khan wanted desperately to have a daughter.
Sutapa wrote, "Me and irrfan wanted to have a daughter so desperately that on my second delivery my doc could not utter the word son and said instead "congratulations!! healthy child!!". I was disappointed yes I was. That day for us and today I feel sad that a girl child got deprived of Irrfan's parenting of a girl."
Sutapa Sikdar, in her post, further wrote, "Because just giving freedom is not enough to a girl child. Whatever is happening around makes me say freedom is not about only being vocal it's not about trodding on other's freedom only . Let's get up beyond being voyeuristic beyond the so called emancipation and do something more concrete meaning full for India."
Irrfan Khan passed away on April 29 after a two-year-long battle with neuroendocrine tumour. He is survived by his wife and their two sons- Babil and Ayan. A few days ago, Sutapa Sikdar wrote an emotional note and shared a picture of her hugging her son Babil as left for the UK. She wrote, "You have seen them grow and then they go. "Travel and tell no one live a true love story and tell no one, live happily and tell no one, people ruin beautiful things. '#kahlil Gibran#unconditionallove."