Shilpa Shinde is in the news once again for what seemed like repeating history. She got into bad light after exiting the show Bhabhiji Ghar Par Hai on bitter terms. And now, she has exited from the show Gangs Of Filmistan even before its first episode could be aired. The producers of the show slammed Shilpa yesterday in an exclusive interview for being unprofessional. Now, the Bigg Boss 11 winner Shilpa Shinde has come out to slam the producers for spreading lies. Shilpa Shinde Slams Preeti And Neeti Simoes For Lying About Her Exit, Shares WhatsApp Screenshot To Prove Her Point.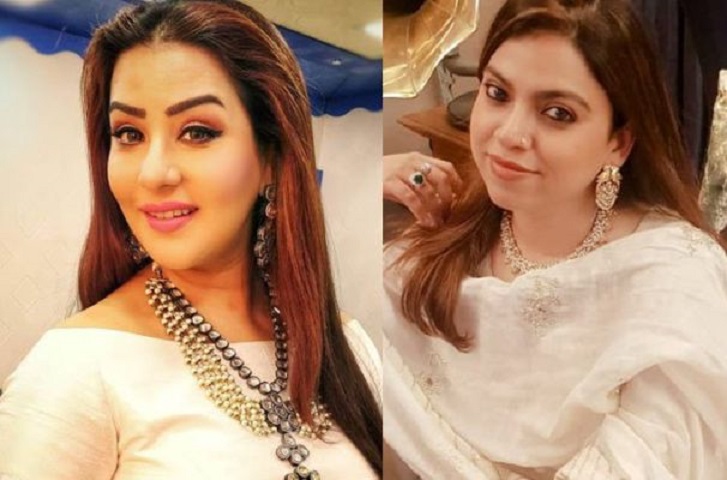 While reasoning out her decision of opting out from the show, Shilpa made some serious allegations against the producers. Shilpa stated that safety guidelines were not followed on set except while shooting the promo of the show and that she recently began feeling unwell; she also claimed that scripts were not ready on time or were changed at the last moment. According to the reports, Shilpa also cited issues with working with comedian Sunil Grover.
Preeti and Neeti Simoes, who are running the show, said that Shilpa has not officially left the show as she only announced it to the media and not to the producers of the show. Shilpa had earlier shared a screenshot of her email to clarify that she had approached Preeti Simoes about her complaints before the controversy escalated. In another post, she shared a few screenshots of her chats with Preeti and accused her of sharing their WhatsApp chats with media after hiding Shilpa's replies.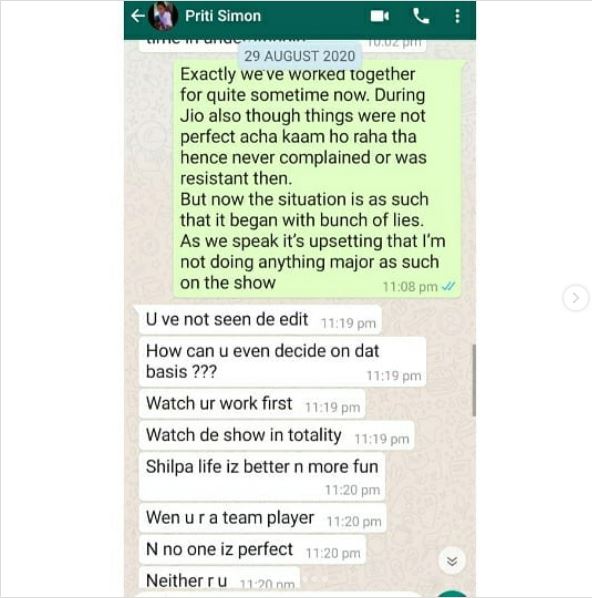 Sharing the WhatsApp chats on her Instagram handle, Shipa wrote, "THE POT CALLING THE KETTLE BLACK" Suits on you Dear Preeti/ Neeti Simoes @preeti_simoes @neeti_simoes Have some shame Preeti/Neeti Simoes..Screenshot nahi dalne ko bol rahi aur phir khud WhatsApp ki Chat mere replies hide karke media ko de rahi ho Abhi kya mein bhi poori script post kar du??Maine sirf abhi front page post kiya hai.. "Ek bar clearly apni baat batane ke baad ,I am not answerable to u..Mera NO means NO hota Hai" "DOODH KA DOODH PAANI KA PAANI ABHI HO GAYA HAI"..So Plz stop spreading lies…Asliyat Saamne aa gayi toh mirchi lagi kya?? Abhi phone calls bhi hain jaha maine tumko(Preeti Simoes) clearly bola ki "Mujhe Sunil Grover ji ke sath kaam nahi karna"..Woh bhi daal du???" Shilpa Shinde Slams Preeti And Neeti Simoes For Lying About Her Exit, Shares WhatsApp Screenshot To Prove Her Point.