After Raj Kundra's arrest in connection with the alleged pornographic racket, Shilpa Shetty's life went topsy turvy. However, the actress has maintained grace and made her first official post. After that from attending a COVID-19 fundraiser event to making a comeback on the sets of dance reality show the actress is hellbent on getting her life back on track. The actress is mercilessly trolled on and off for her public appearances but she is not letting anything dampen her spirits.
On September 1, 2021, talk show host Janice Sequeira posted a clip from the upcoming episode of her show Social Media Star With Janice. The episode which was shot at the beginning of July 2021 features Shilpa Shetty and content creator Be You Nick. In the episode, Shilpa Shetty was seen laughing uncontrollably which didn't go down well with the netizens. Since the episode is going to be aired amid Raj Kundra's ongoing controversy Shilpa Shetty has again come at the receiving end of criticism.
She was brutally trolled for her laughter by a troll who commented, "Laughing about how Raj Kundra destroyed other women's life via pornography and how thick-skinned and shameless one needs to be despite such a big porno scandal." However, the show's host, Janice, shut the troll and replied, "Please read the caption about when this was shot before you decide to come shit on the TL."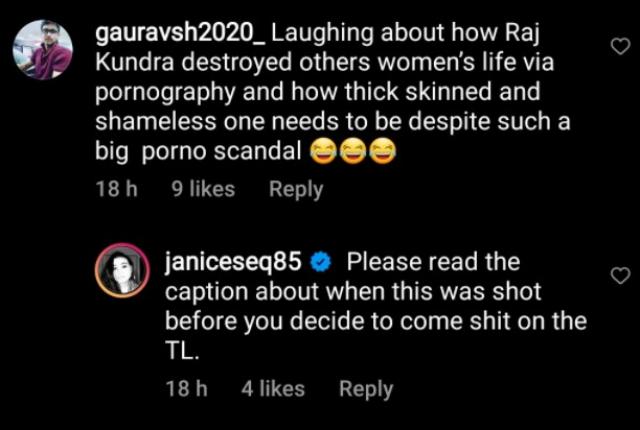 What are your views on this? Do let us know in the comments section below.