Sara Ali Khan's Makeup Artist Florian Hurel Speaks Up On Sexual Assault Allegations By Ex Hiyavi Saigal
A few days ago, Sara Ali Khan's makeup artist, Florian Hurel, and Shraddha Kapoor's makeup artist, Hiyavi Saigal, were hitting the headlines as Hiyavi accused Florian of sexual assault. Taking to her social media, Hiyavi had shared that it started with a boss and assistant relationship, and then it turned into a relationship. In her insta stories, Hiyavi revealed how Florian broke her down. Now, Florian has come forward to share his side of the story on the same.
Florian took to his Instagram handle and penned a long note saying the truth wil prevail. He wrote, "Truth is generally the best vindication against defamation. Off late, a lot of defamatory remarks have been made against me on social media (Baseless Allegations) to harm my reputation due to progress and strength. I know there are a lot of people who want to take a piece of me, but I've always said that "A dream does not become reality through magic; it takes sweat, determination and hard work."
In the end, Florian Hurel wrote that people should not believe the allegations made against him. "I would request everyone not to believe any statements made against me. The truth shall prevail. Regards Florian Hure," he wrote.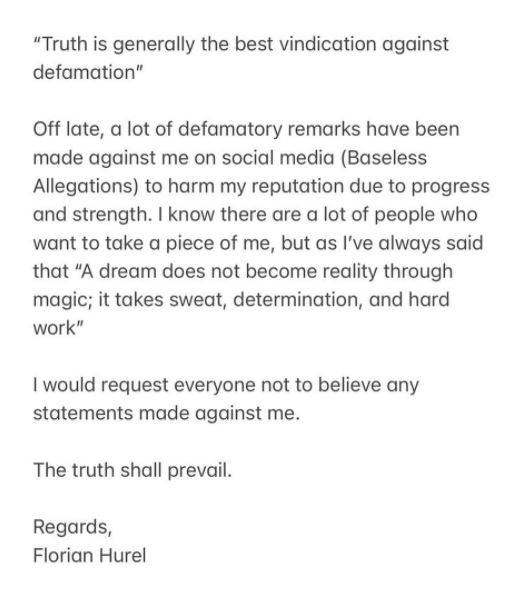 Speaking about the same, Florian's wife Rina Charaniya defended him saying, "I really don't have to say this here -but…Starting right from the day I met you and now being your lawful wife, You've always been the most genuine , caring and supportive Partner who always Supported me & my family emotionally, financially, mentally. When my father suffered form cancer and I had no shoulder to cry or had any money to treat him that time I had just met you but from there you built me back up and made me a stronger person to where I am standing today being an established artist and entrepreneur. I am in tears right now to say that how much you do for people you love and care for. I am not afraid nor ashamed to say that if you weren't there for me I would have not been here today living my dreams and a good family life. More power to you my love – I am with you."