Samyuktha Hegde Assaulted For Working Out In Sports Bra: Assaulter Woman Sends An Apology Letter
Recently, a reality TV actress Samyuktha Hegde was assaulted by a woman for doing hula hoop in her sports wear. She posted videos of being abused and then even being physically assaulted by her on social media. After that, there were many people from Bollywood like Richa Chadha etc who came forward to talk about the same and condemn the act. Now, the Bigg Boss star and Kannada actress has come forward to reveal that the lady has given a written apology for the same.
Samyuktha shared the apology letter by Kavitha Reddy (attacker) where the lady called the incident unfortunate, and said she was feeling sorry for it. Sharing the letter Samyuktha wrote, "Apologies accepted Ms Kavitha Reddy. I hope we can all move forward from the incident and make women feel safe everywhere #thankyouuniverse #servedhotandfresh". Take a look: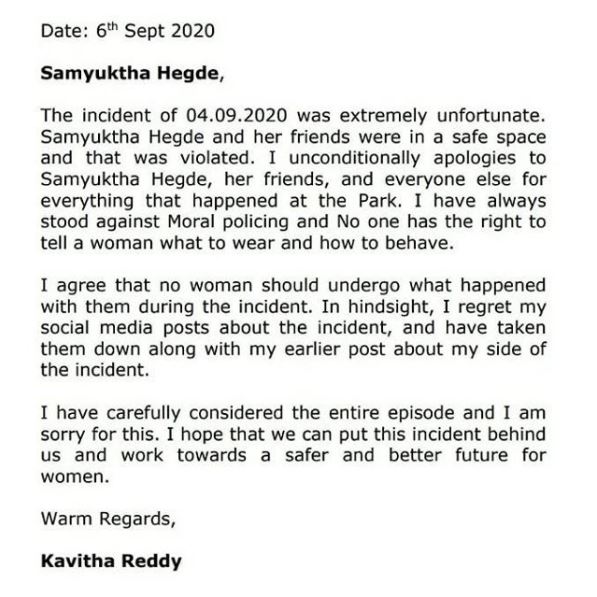 Click here to check out the post directly on Instagram.
For those who've come late, Samyuktha Hegde in her Instagram post yesterday had mentioned, "After being in a democracy and following all the norms of social distancing, we were abused and ridiculed by Kavitha Reddy and the mob in Agara Lake for practising our hula-hoop while wearing sportswear. Despite being polite and trying to solve the problem, the lady hit my friend and used disparaging remarks about me and my friends."