Rangoli Chandel Hits Out At Taapsee Pannu Calling Her "Creepy Fan" Of Kangana Ranaut, Deletes Post Saying She Has No Talent
Kangana Ranaut and her sister Rangoli Chandel seem to have made it their life's mission to bash every Bollywood biggie out there whether they are against them or are even appreciative of their work. Taapsee Pannu the self-acclaimed fan of Kangana Ranaut seems to be the new target for the sisters.
While Taapsee is enjoying her vacation Rangoli took to her social media to take a jibe at the actress. She took to her Instagram stories to laud praises for Kangana and called her a "style icon" who inspires everyone she even went on to call Taapsee a "creepy fan" who copies her looks. She later deleted it and posted a slightly modified version of the criticism.
She shared some pictures of Kangana wearing a saree with sunglasses and wrote, "Kangana is a great style icon to all."  Posting another picture she wrote, "Her only aim is to inspire women to wear saris and revive our own handloom industry." While heaping praises on her sister Rangoli shared a collage of pictures and wrote atop of it, "It gives me great joy to see how young women get inspired and follow her, we all do." Her last post read, "I mean look at her who wouldn't be inspired by her."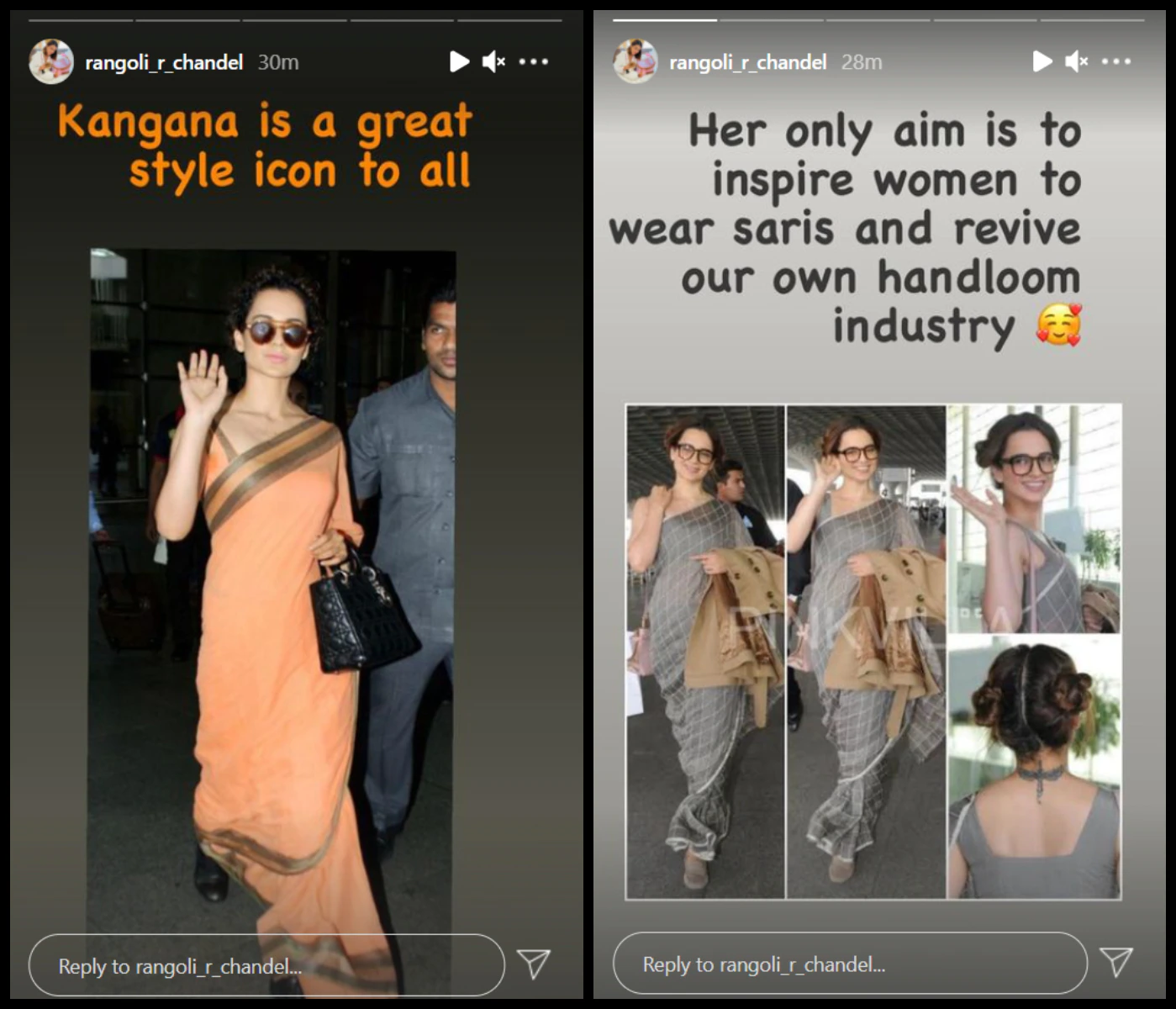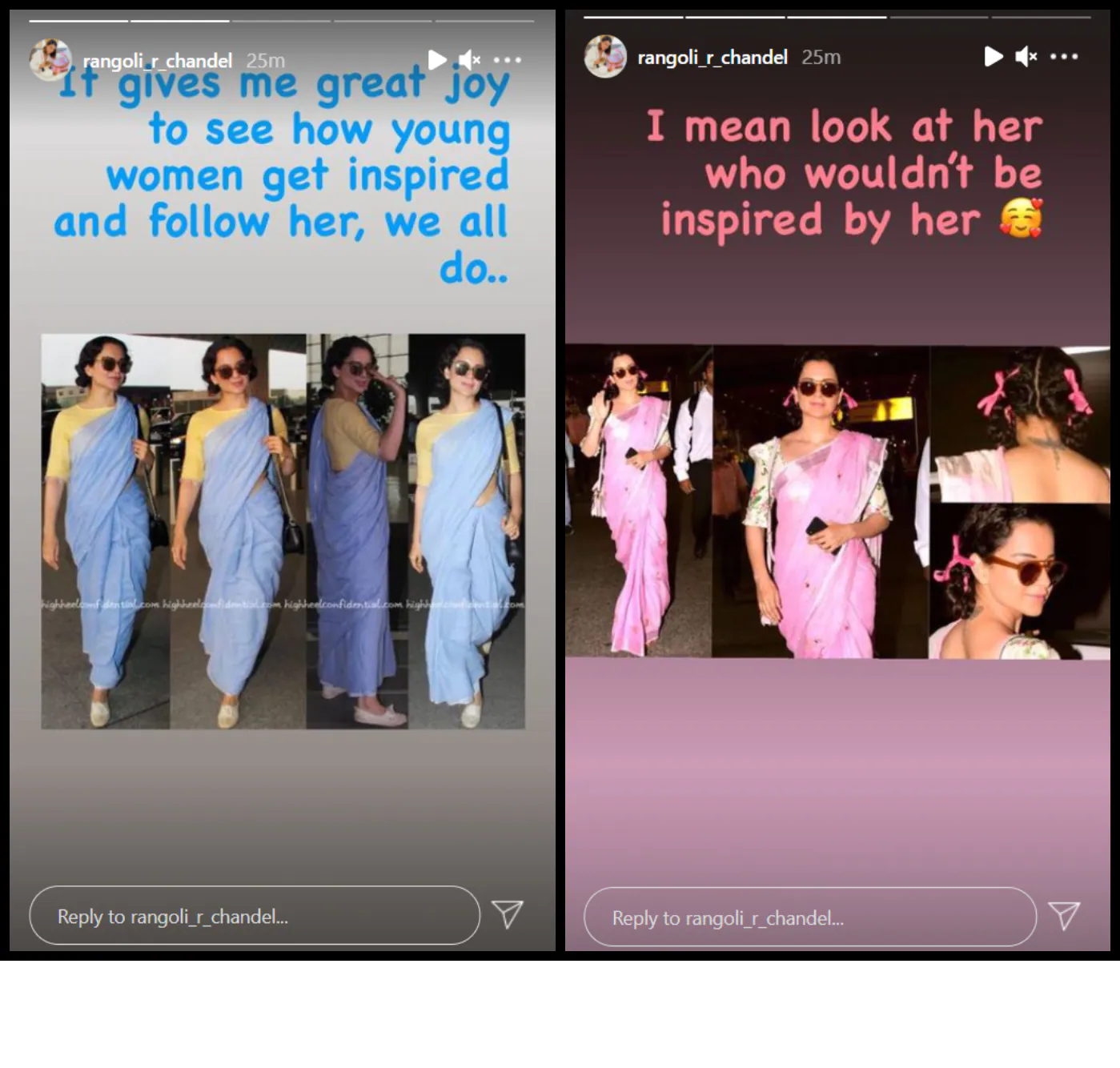 But the slamming spree didn't end here. She further shared a screenshot of Tapsee's vacation picture from St.Petersburg Russia in which she looked like a sight to behold wearing a saree and sunglasses. The screenshot also included a comment praising the look and Taapsee reply, "time to make saree cool" Along with it she wrote, "But but, to desperately research everything about Kangana as you have no talent of your own, like an obsessed creepy fan and copy not just her quotes, looks, style then to claim to have made sari cool, matlab kuch zayada ho gaya na… or fir kehti ho mujhe sasti copy bola @taapsee,". She later deleted the post.
View this post on Instagram
However, within minutes Rangoli posted a little modified version of the criticism which read, "What is not cool to be a creepy fan who obsessively not just copies every interview and looks style but whole work model but on a small scale and goes on to make unkind and mean remarks about the legend, again today when I see this I wonder copy look ok fine but to claim to be the one who made sari cool hmmm you aren't getting away with this honey @taapsee," she wrote.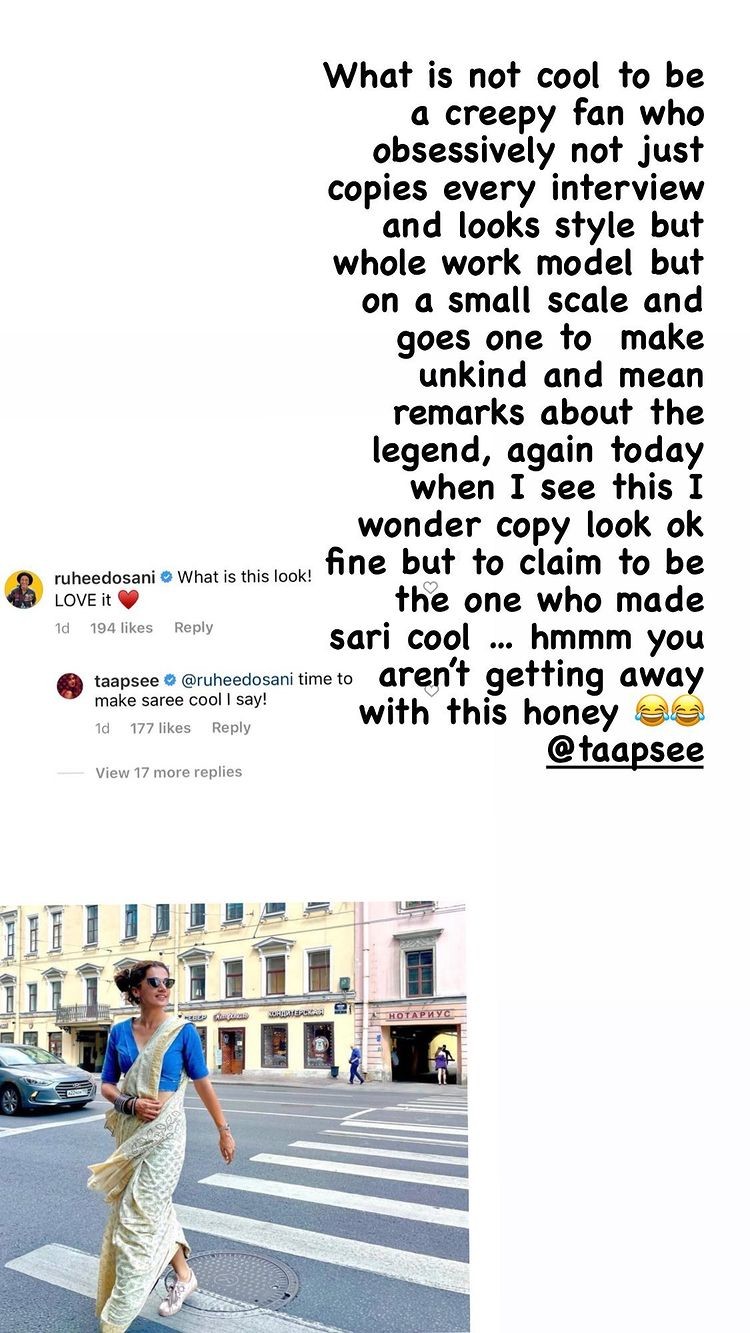 Sta tuned for more such gossips.