MDH Masala Owner Mahashay Dharampal Gulati Passes Away At 98 Due To Cardiac Arrest
The founder of MDH masala and the main face of the brand Mahashay Dharampal Gulati has breathed his last on Thursday morning. He had been the main face of the brand for as long as anyone can remember and his death has sent a wave of sadness among all. Mahasay Ji was in the hospital for the last three weeks and suffered a cardiac arrest on December 3.
Delhi chief minister Arvind Kejriwal paid his tributes to the departed soul. "Dharm Pal ji was very inspiring personality. He dedicated his life for the society. God bless his soul."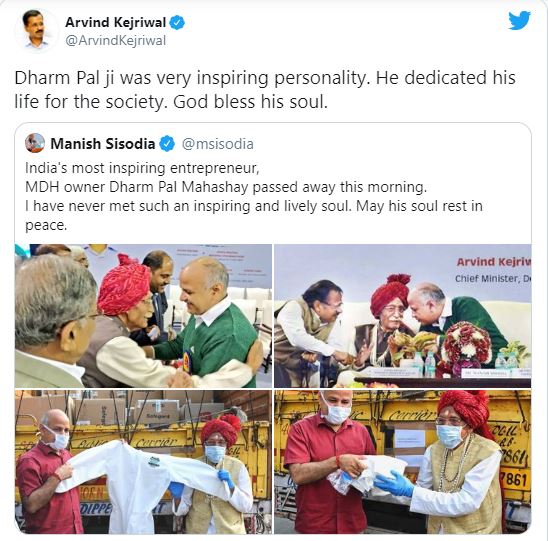 Union minister Piyush Goyal paid tribute to Gulati on Twitter. "Extremely saddened by the demise of Mahashay Dharampal Gulati, who spread the fragrance of Indian spices in the whole world. He set an example through his self-reliance. May he attain salvation," Goyal tweeted in Hindi on Thursday morning.
Mahashay Dharampal Gulati managed to gain huge popularity after he started appearing in his masala advertisements. The brand name was derived from his own name; he was fondly called dadaji and Mahashyaji. He was born in Sialkot, Pakistan in 1923. He came to Delhi after the Partition, on September 27, 1947, and started a business of spices.