Diljit Dosanjh Slams Kangana Ranaut For Her Tweet On Old Woman At The Farmers' Protest
Farmers' protest is a big issue that needs to be addressed by the government. While the majority of the people are unaware of the reasons for the protest, there are many trying to get into the headlines by commenting on the same. And Kangana Ranaut seems to be really opportunist in trying to comment on the same in a very disturbing manner. Kangana on the Twitter handle had shared a picture of an old woman saying that she is the same woman who was also present at the protest in Shaheen Bagh in Delhi. Kangana also stated that she's available for 100 rupees and had also been featured in Times Magazine. Soon, after Kangana's tweet goes live, the actress is being heavily trolled by many people including celebrities like Himanshi Khurana and Prince Narula. Now, Singer Diljit Dosanjh slams Kangana Ranaut for degrading a respected old woman.
The old woman's name is Mahinder Kaur, sharing a video of her Diljit Dosanjh tagged Kangana in his tweet and stated that one should not be so blind and say anything. The video was originally shared by BBC News, in which the old lady has given out a strong opinion against Kangana. Mahinder Kaur stated that she has been farming for years, and that she participated in the protest as a farmer. She even questioned who Kangana Ranaut is and why is she maligning her image? Her family members and ladies who participated in the protest with her also slammed Kangana.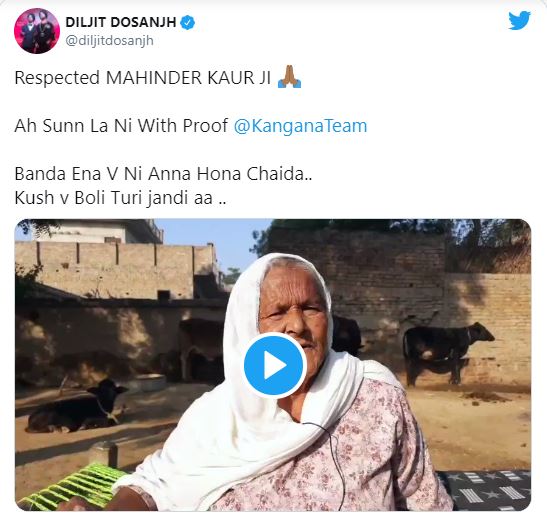 Diljit, who has been actively tweeting about Farmers' Protest, shared the video of Mahinder Kaur and wrote, "Respected MAHINDER KAUR JI Ah Sunn La Ni With Proof @KanganaTeam Banda Ena V Ni Anna Hona Chaida..Kush v Boli Turi jandi aa .."