Manoj Tiwari Reveals His Second Baby Girl's Name; It Is Another Name of Goddess Durga
Actor-turned politician Manoj Tiwari welcomed a baby girl with his second wife Surabhi on December 30. The actor has already a daughter Jiya from his first wife Rani Singh. Manoj Tiwari and Rani Singh got separated 10 years back and the actor married Surabhi in a hush-hush affair during the lockdown. During an interview, Manoj Tiwari had revealed that it was his elder daughter Rhiti who suggested him to get married again and he also shared that Rhiti will name the newborn girl. Now, he has finally revealed the name of his baby girl which is another name of Goddess Durga.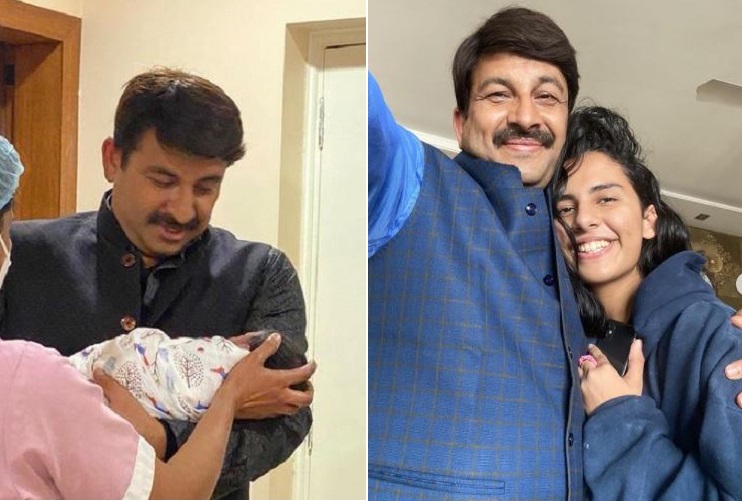 While speaking to ETimes, the Bigg Boss 4 contestant Monoj Tiwari has shared that his elder daughter has named the newborn as Saanvika. "It felt great to have my elder daughter name the younger one. Rhiti had already told us that she would name her sister Saanvika and we respected her decision. It is one of the many names of Goddess Lakshmi. Incidentally, Rhiti is another name of Goddess Durga. So now, I have two goddesses in my life," he said. Manoj further revealed that it was his daughter Rhiti who played a matchmaker for him. "I have known Surabhi since 2015, as she was Rhiti's caretaker. My daughter is the reason I got married again, she convinced me to take that leap of faith," he said.
Earlier, while talking about his second marriage to Surabhi, Manoj told Spotboye, "This could have been a very messy situation for me. When I parted ways with my first wife Rani, I never thought I'd marry again. But then Surabhi came into my life. I never intended to marry her. It was Rhiti, my daughter from my first marriage, who urged me to re-marry. I give Rhiti a lot of credit for maturity and farsight. Today she's the happiest person in my family. She has a baby sister."