Kangana Ranaut Shames Karan Johar And Deepika Padukone For Polluting Environment: "Heavy Fine And Public Shaming Needed"
Kangana Ranaut's animosity towards Karan Johar became quite evident when she called him the flag bearer of nepotism on his own show a few years back. Since then, she has left no stone unturned to slam the filmmaker for his nepotist ways and treatment towards outsiders. Now, it seems she has found yet another reason to hate and slam the producer. She has gone all out to slam and shame him for polluting and hurting the environment.
Recently, a video of Karan Johar's production house hampering the environment and how they are throwing Biomedical waste, after wrapping Deepika Padukone's shoot surfaced online, reacting to it, Kangana Ranaut took to her Twitter handle and shared a tweet while also calling them disgusting and filthy. She even tagged Minister of Environment and Forest, Prakash Javadekar, and the official Twitter handle of Ministry of Environment and Forest, MoEF&CC while asking them for help.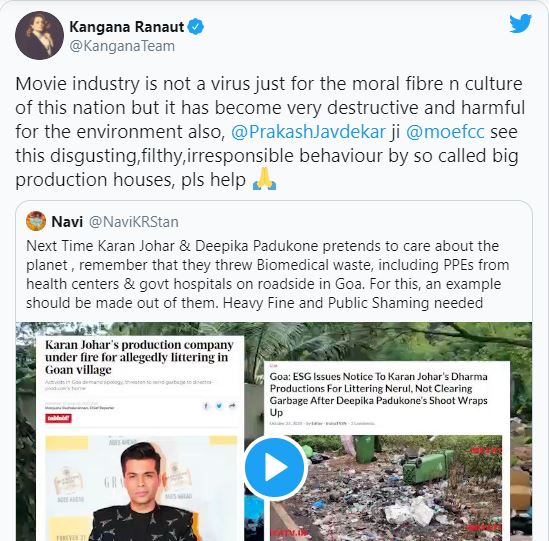 Kangana tweeted, "Movie industry is not a virus just for the moral fibre n culture of this nation but it has become very destructive and harmful for the environment also, @PrakashJavdekar ji @moefcc see this disgusting, filthy, irresponsible behaviour by so-called big production houses, pls help, she tweeted while quoting a Twitter user's tweet which has the video attached to it and says how Karan Johar and Deepika are pretending to care about the environment, his tweet read, "Next Time Karan Johar & Deepika Padukone pretends to care about the planet, remember that they threw Biomedical waste, including PPEs from health centres & govt hospitals on the roadside in Goa. For this, an example should be made out of them. Heavy Fine and Public Shaming needed"