Kangana Ranaut Compares Joe Biden to 'Ghajini', Says, "Kamala Harris Will Run The Show"
Kangana Ranaut has been the talk to the town after the death of Sushant Singh Rajput. She is one of them who never shy away from share their views or opinion on everything. Kangana Ranaut is quite active on social media and often she has been seen either schooling someone or putting her point in everything. Recently, Kangana Ranaut took to her Twitter handle to re-tweet a speech by new US Vice President Kamala Harris. While sharing the Kangana expressed her support to the new Vice President and compares Joe Biden to Ghajini.
Reacting to the new US Vice President Kamala Harris' speech, Kangana Ranaut wrote, "Not sure about Gajni Biden who's data crashes every 5 minutes, all the medicines they have injected in to him he won't last more than a year, clearly Kamala Harris will run the show." Kangana added, "When one woman rises, she makes the way for every woman. Cheers to this historic day Clapping hands signClapping hands signClapping hands sign."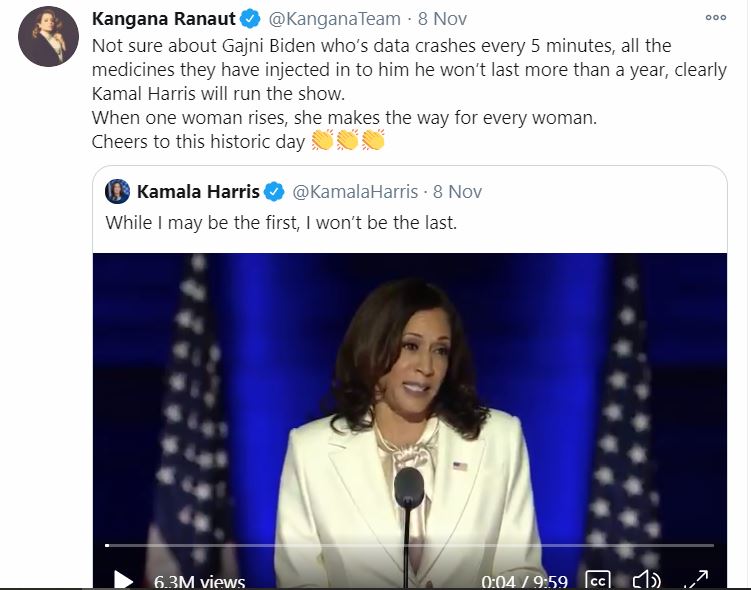 Since yesterday, several B-town celebs have taken to their respective social media handles to hail Joe Biden's historic victory over Donald Trump.
Meanwhile, on the work front, after wrapping up the shoot of J Jayalalithaa's biopic 'Thalaivi', Kangana Ranaut has started training for her next project 'Tejas' which is helmed by Sarvesh Mewara. Apart from these two projects, Kangana will also be seen in 'Dhaakad'.