Kangana Ranaut Accuses Diljit Dosanjh And Priyanka Chopra; says, "Desh drohiyon ke good books mein aana chahte ho?
A few days ago, Kangana Ranaut got into an ugly war of words with Diljit Dosanjh after the singer slammed her for misidentifying an old respected woman. The Manikarnika actress is at the receiving end of criticism and backlash because of her now-deleted tweet on an elderly woman. The actress had accused the old lady of going to protests for Rs 100. Diljit's reply to her tweet has garnered a lot of praises from both fans and his industry colleagues. However, it looks like Kangana Ranaut is in no mood to let Diljit Dosanjh go and this time, she has involved Priyanka Chopra as well.
Taking to her Twitter, Kangana quote-retweeted a post by Prime Minister Narendra Modi, wherein shared a clip of his ministers addressing the agricultural laws and demands by the farmers. Narendra Modi's tweet read, "मंत्रिमंडल के मेरे दो सहयोगी नरेंद्र सिंह तोमर जी और पीयूष गोयल जी ने नए कृषि कानूनों और किसानों की मांगों को लेकर विस्तार से बात की है। इसे जरूर सुनें (My two cabinet colleagues, Narendra Singh Tomar ji and Piyush Goyal ji have talked in detail about the new agricultural laws and the demands of the farmers. Must listen to this)." While sharing this tweet, Kangana Ranaut questioned Diljit Dosanjh and Priyanka Chopra if they even know what the farmers bill are or they are just using these farmers to stay in anti-nationalists' good books.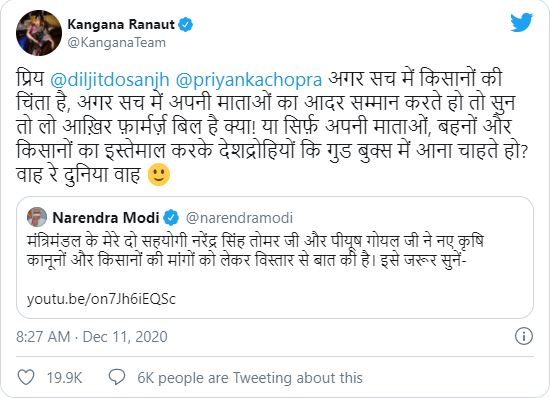 Kangana wrote, "प्रिय @diljitdosanjh @priyankachopra अगर सच में किसानों की चिंता है, अगर सच में अपनी माताओं का आदर सम्मान करते हो तो सुन तो लो आख़िर फ़ार्मर्ज़ बिल है क्या! या सिर्फ़ अपनी माताओं, बहनों और किसानों का इस्तेमाल करके देशद्रोहियों कि गुड बुक्स में आना चाहते हो? वाह रे दुनिया वाह (Dear @diljitdosanjh @priyankachopra If you really care about the farmers, if you really respect your mothers, then hear what is the farm bill! Or do you want to use your mothers, sisters and farmers to get into the good books of the traitors? Wahh re duniya wahh)."