International Singer Rihanna Is Now The Richest Female Musician With Net Worth Of $1.7 Billion!
Rihanna is one of the most iconic personalities in the music industry who has given many hit songs. She is also known for winning 9 Grammys and other prestigious awards in the music industry. Apart from a successful music career, Rihanna runs a cosmetic company Fenty Beauty along with a clothing line name Fenty.
The list of achievements of the pop star does not stop here Rihanna has recently became the richest female musician in the world. As per Forbes, the net worth of the star is estimated to be at $1.7 billion. Although, Rihanna's income does not only depend on the fee and revenue earned from the music itself, her source of wealth also comes from her Fenty Beauty, which was established in 2017 which is a joint venture along with French luxury goods conglomerate LVMH.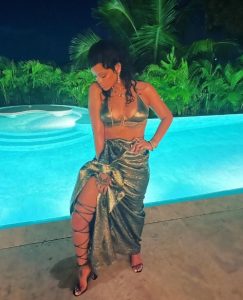 Along with having a great music career, successful clothing line and beauty company, the singer also made the headlines recently when she made her relationship official with American rapper ASAP Rocky. The couple has also been spotted going out on various romantic dates.
A part of Rihanna's beauty company is also been owned by LVMH and the brand also has a wide range of skin tones including the dark shade which was not so common when it was launched in the year 2017. Rihanna is famous for her hit songs like 'Umbrella' and 'Love The Way You Lie' and now the singer has added another feather to her cap by becoming the richest female entertainer in the world.