Himanshi Khurana And Asim Riaz Get Engaged? Former Big Boss Contestant Shows Off Her Tiffany Ring
Himanshi Khurana and Asim Riaz were one of the most popular couples in Bigg Boss 13. They have been together for over a year now and everyone is expecting the two to take their relationship to the next level. And there are rumors that they have indeed taken it to the next level. Why do we say so? Because of Himanshi Khurana's latest story on Instagram. The former Bigg Boss contestant took to her Instagram profile to share the picture of a Tiffany & Co. ring. And we all know when such things happen. Many actresses have been engaged or proposed to with a Tiffany ring. And now that Himanshi has shared the picture of an exquisite and awestriking Tiffany & Co. ring, everyone is asking the same question.
She shared a close-up picture of a Tiffany ring in the case and we've all started wondering if it was gifted to her by her beau Asim Riaz. We are well aware that both are crazy about each other. Ever since Asim saw Himanshi for the first time in the Bigg Boss house, he hadn't been able to stop himself from confessing his love for the singer. And now that she has shared the picture of the ring on her Instagram profile, it seems they are ready to take their relationship to the next level.
She even shared a rather exclamatory expression with the ring's picture. She wrote 'Uiii' in her story which sure reflects her emotions. Talking about the ring, it is a heart-shaped diamond ring from Tiffany & Co., a New York ring store. We all know Himanshi's liking for cryptic posts, there are many who are wondering of this post also has some hidden message. And over analyzing the post, we cannot help but wonder if it was gifted to her by her boyfriend Asrim Riaz. Although she hasn't shared any other detail with the story, it has definitely turned many heads.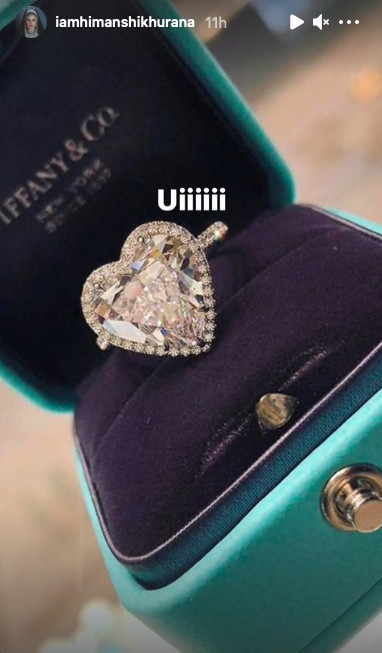 While proclaiming his love for Himanshi inside the house, Asim had made it pretty clear that he wanted to marry her. This raised many questions and objections from his family, especially brother, but he stood his ground and kept his feelings intact. Now that Himanshi has shared this picture, we wonder if they have decided to take it to the next step.