Complaint Filed Against Karan Johar For Hosting Drug Parties By Akali Dal Leader Manjinder Singh Sirsa, "He'll Have Koffee With NCB"
Karan Johar's video from his house party last year led to a lot of controversies. Stars like Deepika Padukone, Vicky Kaushal, Varun Dhawan, Arjun Kapoor, Malaika Arora, and many more were present there and all seemed to be in a drugged state. However, Karan refuted all such claims and said it was a regular get together. Now, Akali Dal leader Manjinder Singh Sirsa has met the NCB chief and filed a complaint against Karan Johar and all such stars for hosting and participating in drug parties.
In his latest tweet, Akali Dal Leader Manjinder Singh Sirsa has stated that Karan Johar will soon have a Koffee with NCB. The political leader mentioned that some deepest-darkest secrets are going to be uncovered and he even tagged stars like Vicky Kaushal, Deepika Padukone and others. The tweet reads, "Soon @karanjohar will have "Koffee with NCB" where the deepest and darkest secrets of "Koke with Karan" will be uncovered @KanganaTeam @shahidkapoor @deepikapadukone @vickykaushal09."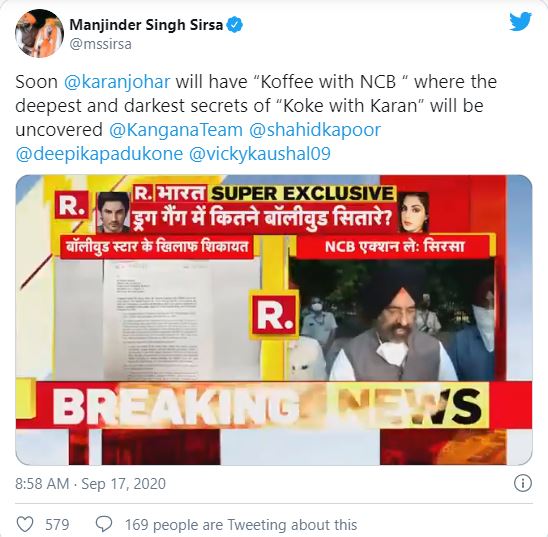 In a recent with Republic TV, Akali Dal Leader was quoted saying, "I met NCB chief and stressed on reinvestigating the matter of drugs of 2019. NCB chief gave assurance of investigation into Karan Johar's party in 2019. Mumbai Police had not responded to Karan Johar house party complaint filed by me last year. There must be two reasons – one, they(Mumbai Police) are hand in glove with them and secondly, that drug is a very common thing."
In an earlier interview to Times Now, the Akali Dal leader Manjinder Singh Sirsa leader stated that Bollywood has been blaming innocent people, especially, Punjabis by making the movie called 'Udta Punjab'. However, it is not 'Udta Punjab' it is 'Udta Bollywood', he says. A while back, Mr Sirsa had also shared the copy of the complaint that he filed against Karan Johar in NCB.