Bigg Boss 14: Kavita Kaushik's Husband Slams Aly Goni For Hurting His Wife, "Are We Waiting For Others To Get Hurt?"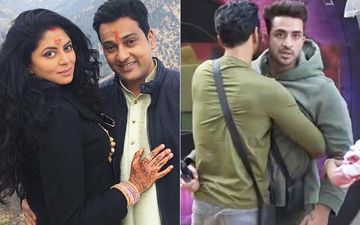 Bigg Boss 14 is getting more interesting with each passing day. There are a number of contestants that are making the show fun to watch. Recently, there was a rife between Aly Goni and Kavita Kaushik in the house. The two were seen getting into an ugly fight which soon turned into a more serious form. In anger, Kavita told Aly "Main Teri Baao Hoon". This seemed to have angered Aly Goni even further who started throwing and toppling things in his rage. He kicked chairs and many other Bigg Boss proper including a trash can. This trash can apparently toppled and hit Kavita Kaushik. She got into tears for being hurt and even asked Bigg Boss to evict Aly for physically hitting her. And now, her husband Ronnit Biswas has come forward to talk for his wife and seek justice.
Rohit was expecting better judgement on the behalf of Bigg Boss. Jt that didn't happen. He said, "I had seen the promo first, day before yesterday and I was very disturbed. But once I saw the way Kavita was putting up to it and how she was behaving I felt extremely proud of her," he said.
Further slamming Aly, he said, "We all saw how aggressive he was getting, if a man is so aggressive with a woman then we can understand that there is certainly something wrong with his mind. Because of people like him, other men who are good towards women also get bashed."
He further said that Aly got away by simply being nominated. "So are we waiting for Kavita or some other member to get hurt by Aly? That is one of the major questions I have. I think our country is also like that we take actions only after an incident takes place."