"Anurag Kashyap Tried To Force His C*ck In My Vag*na" Actress Payal Ghosh Alleges #MeToo On The Filmmaker
The #MeToo movement has once again gained momentum in the Indian film industry. Bollywood's controversial filmmaker Anurag Kashyap has been at the edge of allegations that are levied upon him by the actress Payal Ghosh. She has alleged that he forced himself on her and even tried raping her on the pretext of giving her a film.
In an interview with ABN Telugu, actress Payal Ghosh made some shocking claims and alleged that Anurag Kashyap took her to a room, opened his zip and tried to force himself on her. The actress was quoted saying, "I went to meet him and the next day when he took me to the other room, he opened his zip and tried to force his c**k inside my vagi*a by opening my salwar kameez. He said it was okay and all the actresses who worked with him are just a call away." She also reportedly said that Anurag Kashyap told her that whenever he calls the actresses, 'they come running and suck my c**k". She claimed that this is what Anurag Kashyap told her and expected the same from her.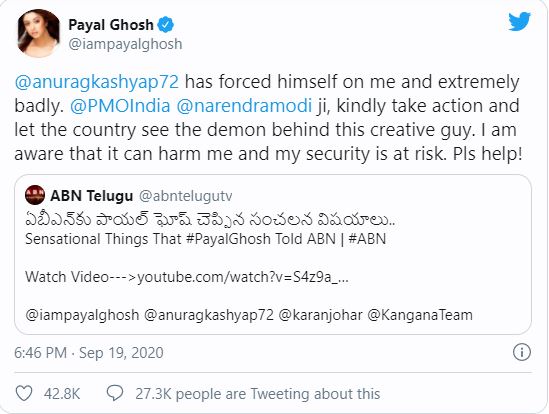 Payal Ghosh also took to her twitter handle to urged Prime Minister Narendra Modi to take action and let the country see 'the demon behind the creative guy'. She wrote, "@anuragkashyap72 has forced himself on me and extremely badly. @PMOIndia @narendramodiji, kindly take action and let the country see the demon behind this creative guy. I am aware that it can harm me and my security is at risk. Pls help!"