Anurag Kashyap Reaches Arnab Goswami's Office With A 'Chappal Award' For Journalism, Not Allowed To Enter
Looking at the type of news that is fed to us on a daily basis, it seems like the end of journalism. Switch to any news channel and you'll see media trials for Rhea Chakraborty. There's no news of coronavirus now or even about the 23 percent decline in GDP. All that the mainstream media is focused at is Sushant Singh Rajput's case. We aren't denying that this news is big and needs attention, there are other things too that require a lot of attention simultaneously. So, Anurag Kashyap and stand up comedian Kunal Kamra decided to visit one of the ace Journalists Arnab Goswami to give him a very unique award.
Yesterday, Anurag Kashyap and stand up comedian Kunal Kamra went to Arnab Goswami's office with a framed slipper in hand. However, they were denied entry without permission. Taking to his Instagram handle, Anurag Kashyap shared a picture of him and Kunal Kamra in which the two can be seen posing with a framed slipper. The filmmaker captioned that picture, "Best birthday ever.. me and @kuna_kamra went to @republicworld to give Arnab the "Paragon excellence in journalism award" .. they said – not allowed without permission.. here is fantasising that "Republic follows what they preach."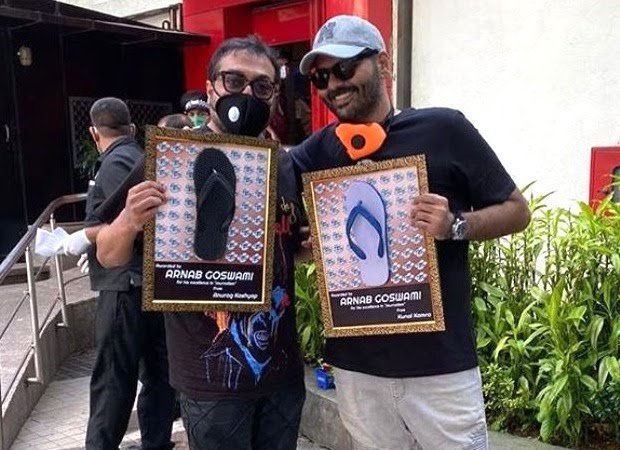 A day or two ago, Anurag Kashyap was in headlines for sharing a WhatsApp chat with Sushant Singh Rajput's manager. The filmmaker called the late actor 'too problematic'. He also shared some of the screenshots he revealed the reason why he did not want to work with Sushant Singh Rajput. Sharing the conversation on his social media, Anurag wrote, "I am sorry that I am doing this but this chat is from three weeks before he passed away. Chat with his manager on 22 May .. havent don't it so far but feel the need now .. yes I didn't want to work with him for my own reasons ..".