Amitabh Bachchan Remembers 'Babuji', Harivansh, On His 19th Death Anniversary, Pens A Heartfelt Note; Take A Look!!!
Bollywood megastar Amitabh Bachchan remembered his father on his death anniversary and felt pain for his father. Today is Amitabh Bachchan's father, who was a legendary poet, Harivansh Rai Bachchan. His son Amitabh Bachchan recalled his 'babuji' on his 19th death anniversary and wrote a heartfelt note for his adoring babuji. In each and everyone's life, Parents' death is such a worst loss in life for everyone and we can never be able to replace their presence in our hearts and even from our lives.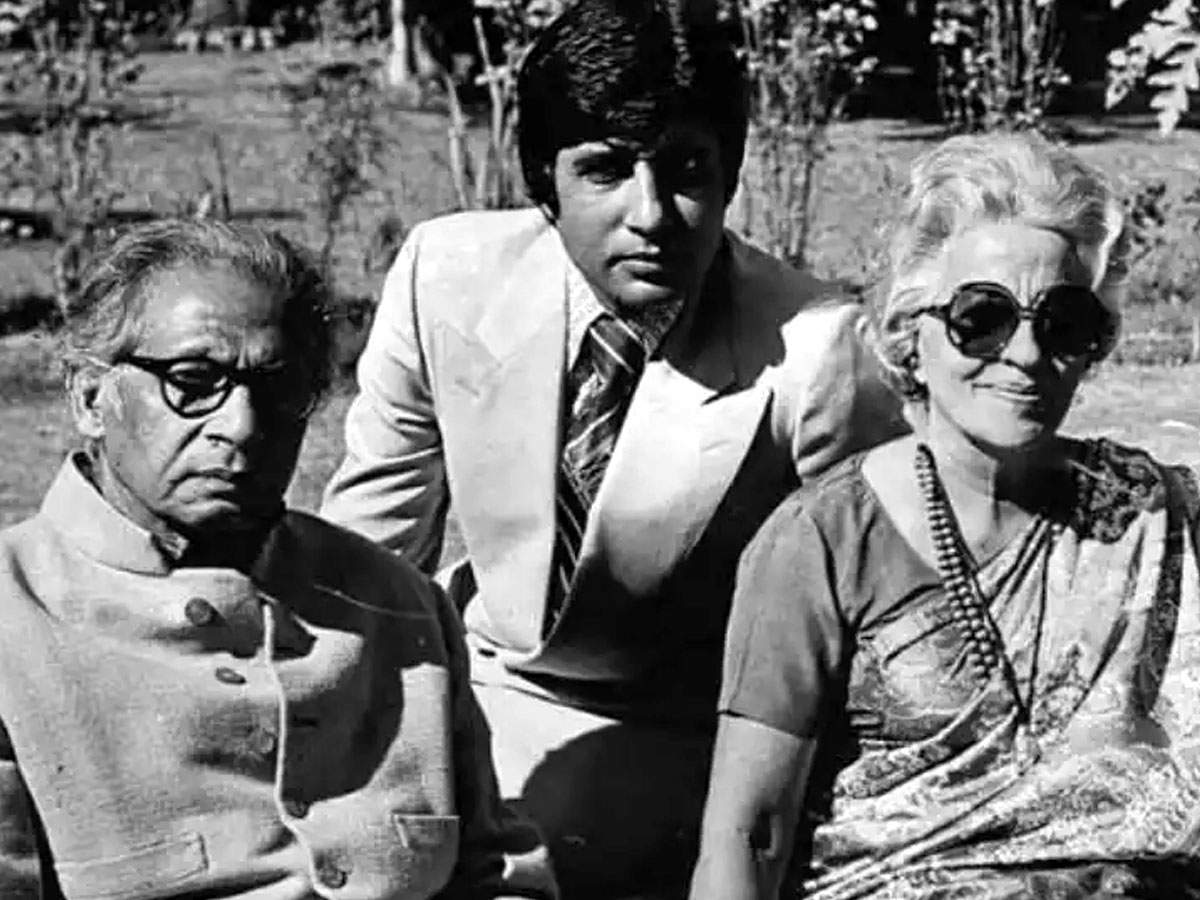 He has always been very close to his father, Harivansh Rai Bachchan. Amitabh Bachchan has always been a very obedient son of his father and as he formed his son as well Abhishek Bachchan. On Amitabh Bachchan's father's 17th death anniversary, the actor had taken to his Twitter handle to write a few heartfelt words for his late babuji. He had written: "A few moments ago he had breathed his last. My Father, as I held his hand, soft, still vibrant, the hand that wrote genius."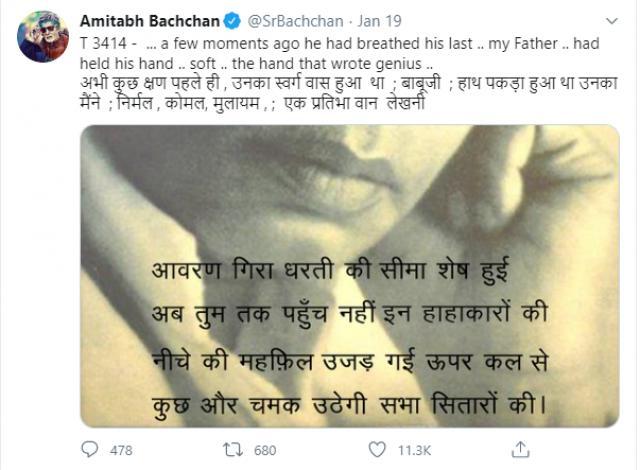 As we all know very well that Harivansh Rai Bachchan was one of the finest poets of his time, he was a legendary poet who wrote so many poems in Hindi and take Sahitya world unforgettable things by his art of writing, and his son, Amitabh has also picked up the ability to play with words like his father. Every once in a while Amitabh Bachchan shares social media to post a few lines and of his father's writings to keep him alive. On January 18, 2022, Amitabh Bachchan shared a post for his father as he is remembering his father on his 19th death anniversary. The post can be read as:
T 4163 –
"भावुकता अंगूर लता से
खींच कल्पना की हाला,
कवि साक़ी बनकर आया है
भरकर कविता का प्याला ;
कभी ना कण-भर ख़ाली होगा
लाख पिएँ, दो लाख पिएँ !
पाठक गण हैं पीने वाले,
पुस्तक मेरी मधुशाला "

~ हरिवंश राय बच्चन

— Amitabh Bachchan (@SrBachchan) January 18, 2022
"And the midnight has passed by to the day of the next .. and the remembrance of Babuji .. his 'Punya tithi ' .. punny tithi .. on the virtuous moment .. of the completion of his exceptional life ..and we have not even touched a hair of his contribution to the world of literature .. nor has there been an attempt to do so .. but there are some who value and exhibit their desires .. like the City of Wroclaw in Poland, where his miniature statue adorns the street."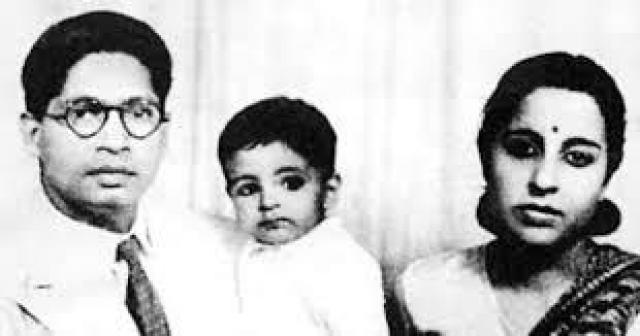 A few hours back, Amitabh Bachchan took to his Twitter handle to show his acknowledgement for his followers and thanked every one of them for still showing love for his father, Harivansh Rai Bachchan. He wrote in the tweet: "Un sabhi shrota gan ko, jinhone pujya babuji ko apne sneh aadar samman diya hai, unko mera shat shat naman."
T ४१६३/4163 –
उन सभी श्रोता गण को , जिन्होंने पूज्य बाबूजी को अपना स्नेह आदर सम्मान दिया है, उनको मेरा शत शत नमन 🙏🙏 👣

— Amitabh Bachchan (@SrBachchan) January 18, 2022
On the work front, Amitabh was last seen in the 2021 film Chehre. His line-up of films includes Brahmastra, Runway 34, Good Bye, Jhund, and the Hindi remake of Hollywood hit The Intern. Amitabh co-stars with Deepika Padukone in the movie.