Amid Aryan Khan's Arrest An Old Video Of Shah Rukh Khan Saying Salman Khan Will Be There For His Family Is Going Viral
Everybody knows about the bond shared between Salman Khan and Shah Rukh Khan's family. The two Khan's have known each other for years and had started their careers together. It is said that in Shah Rukh Khan's struggling days he was staying at Salman Khan's house and everyone treated him like a family.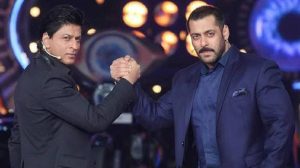 However, their friends hit a rough patch after the two actors got into a physical fight at a party and the reason is still not known. Over the years a lot had been said and written about the duo whether they would come together for any show or film but no project has been finalized yet. SRK and Salman have mostly been tight-lipped about their friendship but have always been there for each other's families.
Recently, when Shah Rukh Khan's son Aryan Khan was arrested from a Cruise ship in a drug case, Salman Khan was the first person to reach SRK's house. Now an old video of both the actors from the show, Dus Ka Dum hosted by Salman Khan is going viral. In of the episodes, Shah Rukh Khan had come along with Rani Mukherjee and he could be heard saying that he knows that whenever his family will be in trouble Salman Khan will be there to support.
In the video, Salman Khan asks Shah Rukh, "Apka hai koi thick and thin mein (Do you have a person who stands with you in thick and thin)?" Shah Rukh Khan promptly responded, "Salman yaar, mai agar kabhi trouble me hoon, actually, mujhse zyada agar meri family kabhi trouble me hai to tum ho. (If I am ever in trouble, actually if my family is ever in trouble, you are there)."
Check out the video here:
View this post on Instagram
Salman then nodded his head and hugged Shah Rukh Khan, and Rani Mukherjee in the clip could be seen smiling and applauding the friendship between the two.